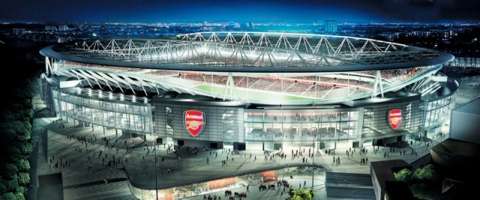 Last year was a watershed season for me. I did not watch the last few games even when there was a lot a stake. It is sad when you know your team is going to screw it up before they actually do. It is heartbreaking when you know they can do better.
There was also something more painful. They say you should never meet your heroes. I have met Arsène Wenger but I have never had anything like a conversation with him. But last season, I felt he was really unravelled and laid bare through his team and by watching him on the touchline and his press conferences. I felt sad. I didn't want to write about it because I didn't want to flog my hero. It was too sad.
Arsène had a brilliant idea and philosophy. He worked hard to realise it even when people did not believe it. He took risks – he went to Japan and developed it further and then came to Arsenal and proved it. It worked so brilliantly that it seemed like the big idea for the next 4 decades. But all of sudden it stopped delivering. When it started failing – well not failing but being overtaken by other newer, better ideas – he worked harder on doing what he has always done because it had worked so brilliantly for a decade. He looked for the solution within his philosophy instead of outside. Injuries and lost finals made the faltering seem like bad luck at the beginning. Young players that always seemed at the edge of being huge next season also skewed planning. Both these delayed the realisation that something was wrong. It cost us time. Wenger did, however, change more than people gave him credit for. He changed formations, bought some older players (Gallas, Rosicky, Vermaelen, Arshavin) and brought in players that he had sold a couple of years before. But he stayed too close to his outdated philosophy of building a winning team.
I have some sympathy for that. Creators of ideas tend to look within their theories for answers. Darwin's "predicted moth" is an example of this. But alas the world overtook Wenger while he was looking inward. Now there are signs that Wenger realises he has to learn from others outside his own ideas.
That is also true for me as someone who has also been looking inside Wenger's ideas for answers. Last season I had a much better look at football. I watched more non-Arsenal games last season than ever before. Here are my seven immediate changes that Arsenal needs to make immediately to keep the club at the top.
1. Reward and Punish excellence and concentration immediately
Who is the boss at Arsenal? Over the seasons with the behaviour of players like Henry, Adebayor, and other players you got the feeling that Wenger is not completely head of the dressing room. Players make mistakes and show up again in the next match. If Wenger punished mistakes, lack of concentration as harshly as other managers, Arsenal would gain important points. When players seem to have an automatic starting place, they soon get too big for their boots and don't fix their issues. Eboué and Diaby have never fixed their lack of concentration yet they kept playing. In the same way, Rosicky, Nasri or Arshavin can have great moments in game by getting behind defences and then strangely don't repeat it. Why? No reward, no punishment creates an environment that can never lead to a winning team. We have seen over the years that there is no player that Ferguson will not bench. But for Arsenal to bench a player, it becomes news. Wenger created distractions about injuries just to bench Almunia. That is unhealthy.
2. Don't Arsenalize new recruits too quickly – Diversity is important
What happened to Chamakh? We get players who come and play differently and do brilliantly. He scored so often at the start of his Arsenal career, then he got sucked into Arsenal's style of pass-pass-pass and no penetration, indirect style and lost everything special about him.
Look at Gervinho. He is getting behind defences. Look at Miyachi now too. They have directness in bags. Remember Carlos Vela when he joined? And Arshavin? These players got Arsenalized and got worse. We joked here on one of my articles last season that if Hernandez had been signed by Arsenal instead of Man Utd, he would not be the success he is. He would have improved his passing and technique but would be less dangerous.
Chamakh is not Diaby. He, like Arshavin and Rosicky are proven player and he showed us what he could do early last season. Arsenal ruined him. He has no confidence in his game because passing at high speed is not what he is best at. Direct is what he does.
Don't Arsenalise Gervinho, Miyachi, Jenkinson (who crosses and like defending) too soon.
3. Be direct rather than trying to keep the ball forever
See number 2. Direct does not mean long balls. It means try to get behind the defence and take every attack as an attack that you want to score from. Nobody does this better than United. Man Utd get three great benefits from this.
First, they score goals in tight games because they throw force on each attack and will score from a rebound because they really invest in every opportunity. Goals don't need to be beautiful. Second, it creates fear in the opponent so the opponent attacks them a lot more cautiously and get terrified into mistakes. It is intimidating. It is one of the most effective defensive weapons they have. Lastly and quite importantly, by not having too much of the ball – by losing balls in attacks that don't work out instead trying to be patient and keep ball for ages – they get attacked earlier and regularly in the game by the opponent. That means they get the chance to defend as a normal course of the game.
Arsenal keep the ball so well that when the opponent finally gets a chance to mount an attack after 40mins they are completely unrehearsed in defence and usually make a mistake as they have stood around assuming for 40mins that nobody is going to attack.
Here, I owe an apology to Myles Palmer. He has made this point for three years: Arsenal have too much of the ball. It is true.
4. Let players grow old at the club, it sets the right career expectations for young players
One of the most rotten things about Wenger's reign is that players leave too early because they don't want to sit on the bench. Egos get so big at Arsenal because it seems like senior players run the team instead of the manager. Automatic starting means that players don't have the humility to sit on the bench. Wenger doesn't bench players and suddenly when he really has to, they leave.
Look at what Vieira, Henry, Gilberto, Lehman, Píres, Campbell were able to do after leaving Arsenal. They played for another 3 to 4 years. Imagine what difference it would have made to have a Henry as a sub instead of Bendtner over these past years. Imagine Vieira instead of Diaby in the away games in the Champions League or the league.
Team too young? No, that's the wrong problem. Buying promising young players is good. Giving them a chance is good. Having the wrong dynamics of experience in the dressing room and on the bench is fatal. You only have to look at Paul Scholes, Gary Neville and Giggs yet the young players at United have been playing getting games.
This creates another problem for Arsenal. When older players don't stay, young players come into Arsenal expecting to leave at 26 or 27. There is no example for them about longevity at the club. The last example was Dennis Bergkamp. He was very much an exception. Players start feeling ready to leave at 24. Patrice Evra has seen Neville. He knows the club can use him respectfully with pride till he is 34. He expects to be on the bench but still win a trophy and contribute to it. There are no such examples for Nasri or Fabregas. All they know is Hleb, Flamini, Touré, Clichy, Henry etc. Selling all experienced players with four of five years of playing left is very damaging.
5. Stability is not as important in football anymore – in fact the opposite is now true
We have always celebrated Arsenal's stability but now I realise that has been key to stopping Wenger learning from outside. Football has got highly competitive and changes so fast. I will repeat that. There is so much competition and money in football that the changes to the game are at a higher rate than I can see from any period in the past.
You need different perspectives to keep growing in the right direction. Madrid, Milan and Barcelona fire winning bosses. That's how important fresh ideas are. Mourinho will not be in his job in 2 years no matter what he wins. It is the expectation these days and for good reason. These great teams know a thing or two about staying on top. I now see why "Director of Football" has been pushed through by many of these huge clubs. It balances long-term and short-term goals for the club. Wenger has had to do all that and his balance falls on long-term. That screws Arsenal. Big clubs separate the thinking about the next 5 years from winning this season by relieving the manager of that responsibility when the season starts. It allows them to measure each person on one thing. The Director on the club growth and sustainability and the manager on the success on the pitch. Wenger has been praised for the latter and that should not be his primary measure.
Stability is important for generations of players. But managers should not transcend generations anymore in my view. This is a new view. If I was a club owner today, I would not let anyone lead the team for more than 5 or 6 years. I would sack Ferguson (yes, you heard that right). A new boss has to come in and see players in a different light. Mourinho and other roving managers have "rediscovered" and brought out the best in players that nobody saw before. Many Inter Milan player played like nobody thought they could two years ago. New managers also keep the players hungry and keep the dynamics in the club high.
6. There is only one Barcelona
Barcelona are unique. I have spent a lot of my summer checking out their games on the net just to enjoy. There is a lot about Barcelona that cannot be built. There is a lot about Barcelona that is a lucky accident. I don't want to take anything from their hard work and Guardiola's genius but Messi is an accident – it is not of anyone's doing. Messi's stats mean that he can transform a good team to world class – the statistics are mind-blowing, unprecedented. Messi's stats added to Everton would make them Champions! There has been nobody like him.
Barcelona play a lot of unpredictable passing. When you watch them you cannot always predict the pass. It doesn't always go to the best available person or even the best option but it works because they have players that can cope with it and that unpredictability is debilitating for opponents. It makes opponents dizzy – they get tired mentally when they cannot follow normal positioning rules to defend. I saw Man Utd players doing something I have never seen them do under Ferguson. They stood around in midfield and watched Barcelona have the ball. They were mentally tired after 65mins in the Champions League finals.
The players that have played with each other for so long, the time that they matured and the trophies they won when they matured, the fact that their coaches changed at the right time for the generation of players, the fact that they have Messi – there is a lot about Barcelona that is almost impossible to recreate. One of those ingredients will disappear one day and they will collapse for a while.
Arsenal should forget trying to pass their way to victory like Barcelona. We don't have what they have and cannot create it now. We need a much more realistic approach that takes advantage of the fact that we have a passing game closer to Barcelona than most and add much more directness where we are miles behind our competitors.
7. Good players cost money! A lot of money
Finding Fabregas, Vieira and Henry at that price is something from the past decade. It wouldn't happen now, unless you buy them at 15. Man City are prepared to pay £22m for Nasri. Here is a player that cannot play centrally in a 4-3-3 but can be a good winger and good half striker. He costs £22m only because there is one year left on his contract. With three years it would be a lot more.
The point here is that with the competition in football today, a lot more clubs are looking for the same players in order to compete. The players are not being grown fast enough. These players score goals and make you win. If you want to be there, you need one of these players and that's how much they cost. They cost £24m a piece. There are no bargains out there anymore. If you want one of these players, a player who would make RvP dangerous (something nobody has managed since Cesc and Wilshere) then you have to pay a lot for it. There is no other way round it. You want another Vermaelen? Well everybody else is looking for one. You have to beat them in the market. Juan Mata may go to Chelsea. Arsenal needed him. But Chelsea will not argue about the money. If nobody wants to pay that kind of money for Diaby then you should not have him in your squad either.
You've read this far? Congratulations and apologies for writing so long. Fingers crossed that we have already seen the worse of the season.