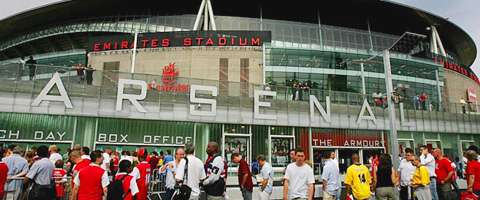 All hope for this season is not lost. It's a shame it took an 8-2 defeat to provoke this, but at last we have spent some money on some new players, with a transfer window deadline day to remember.
First to be confirmed was Andre Santos from Fenerbache. A Brazilian left-back who will presumably be first choice following Gaël Clichy's departure and Kieran Gibbs' persistent injury problens.
Later in the afternoon Per Mertesacker from Werder Bremen was the next to be paraded on the official site. Amazingly, Wenger fulfilled his promise of signing a tall centre-back, by signing one of the tallest of the lot.
Late in the day the loan signing of Yossi Benayoun from Chelsea was confirmed, with the Israel captain choosing us over Spurs.
And even later in the day, perhaps the most exciting of them all, Everton's Mikel Arteta was announced as Arsenal's final signing of the summer.
I could, as I always do, complain a little. I could say I would've gone for Baines and Cahill over Santos and Mertesacker. Sure, we would've paid more for them, but I could say that, with that, you get the assurance that they've played in this league and won't have too much trouble settling in. But I won't complain too much.
I could also look at the recent fitness records of Arteta and Benayoun and say they're not great, which is a concern in an already injury-prone squad, but I won't go there for the moment.
Above all, I could say that with Wenger's recent record in the transfer market and this worrying trend of exciting players like Arshavin, Rosicky and Chamakh all degressing massively under Wenger, that it doesn't matter a great deal who we sign, and while that is a genuine concern, I'm still very glad that we did sign them.
I'm very glad, mostly, because for a change we're signing players at the peak of the game. Just look at the ages – 28, 26, 29, 31; no messing around with untested teenagers or unwanted veterans. Finally we've seen a step in the right direction and a change in our transfer policy; we're signing players to come in and do a job NOW.
As I said, it's a shame it took the 8-2 defeat to really spark us into life, and it's a shame we couldn't have avoided this humiliation by getting our business done earlier in the summer, but there's still January to come and maybe this won't be the last of the spending. There is, after all, still work that needs doing on this squad, but at least now we look like a top four finish might not be so out of the question.
It's worth noting from the reactions on Twitter, of Jack Wilshere in particular, just how excited the players get about these signings as well as us. Hopefully the ambition shown by the manager and the board can lift the spirits at the club a bit. It seems to be working at Liverpool, that's for sure.
The burning question is: Are we better now than we were last season?
Defensively I'd say yes. Of course you never know how players from other leagues will adapt, but at the same time here we're talking about experienced internationals who haven't been coached by Wenger all their careers, which can only be a good thing. Clichy was a liability at the back and provided zero attacking threat, which certainly can't be said of Santos, who has impressive stats in goals and assists. He is Brazilian, after all.
Sadly, attacking-wise we are inevitably looking weaker. Arteta is no Fabregas, but Jack Wilshere is a year older now and could grow into that role, while Arteta might give us something a little different, and perhaps more direct. He has a good long range strike and free kick on him and hopefully won't have that Arsène'd out of him too soon.
As for Benayoun, it all depends on his fitness, but he is arguably an improvement on Nasri, who had a few good months last year, having consistently provided goals and assists at Liverpool. The reassuring thing as well, of course, is that if he flops we can just send him back to Stamford Bridge next season, whereas if he impresses we will surely have first option to sign him permanently. As a lover of saving money, I am surprised Wenger doesn't go for loans more often.
Anyway, the fans have chanted for the club to 'spend some f*cking money', and finally we have our wish. The official site was down earlier, presumably from visitor overload, and there's a buzz about being a Gooner again. At last.