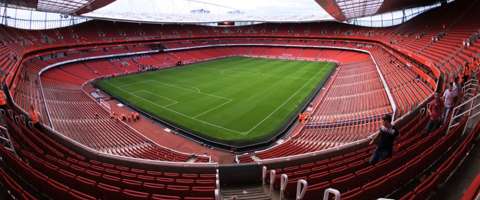 At this point in the season it doesn't matter how the points come, but Arsenal do have a somewhat distressing habit of making any game more difficult than it should be.
Fighting relegation strugglers is never easy, as we saw last week against Hull, and obviously it's even harder when they get very generous penalty decisions given their way.
At 1-0 up, both of our last two games could have been very different had Hull not been gifted an equaliser last week, and Arsenal reduced to ten men this week.
Looking at the penalty and red card incident, my initial thought was that Almunia should have come out and claimed the long ball. I'll have to look at it again, but the Spaniard is known for being a quiet keeper, with a poor command of his area. I think he could have taken a lot of the pressure off Vermaelen, who was put in an impossible situation. Any faintest contact (and it was faint) and he it would be a penalty, and almost definitely a red. He'll face a suspension now, which could be up to three games, which is far more daunting than playing one half of a game with ten men.
Anyway, Almunia more than made up for his error with a brilliant save, and I mean brilliant – the ball was heading for the far corner and he really had to react quickly and stretch for it. Well done to him, he produced a big moment for the whole team.
It felt like a match-changing moment, but Arsenal played with fear for much of the second half, despite being up against a really poor West Ham side. Song's presence and ball-winning ability was missed in midfield as he had to drop back to partner Campbell in Vermaelen's place.
Thankfully though, Denilson, for a change, had a good game, and he helped us re-establish our grip on procedings. It flashed up on the screen at one point that he had completed 100% of his passes. Obviously his passes are rarely adventurous, but it's obviously useful sometimes, and much like another Brazilian midfielder, Edu, he has the knack of scoring goals. Edu turned into a great player, maybe Denilson can too.
As well as their penalty miss, Carlton Cole hit the post for the visitors. We did not look comfortable at 1-0, but a second goal on the break started to look more likely as the game went on, and eventually it came.
Eboue neatly played in Fabregas, who won a textbook penalty by hitting the ball at Upson's hand. Personally, even though we've seen penalties like that given a thousand times, it's often a bit harsh on the defender, who can't really be expected to move his arm away quickly enough. Still, I'm not complaining.
Cesc hit in another penalty, taking him to 18 goals for the season, and taking Arsenal to the top of the league.
We need to kill teams off more. We need Arshavin to start making more of an impact. Maybe we'll benefit from playing a few teams who aren't desperately fighting for their lives at the foot of the table.
We'd also really benefit from a certain somebody signing a new contract and curing his mysterious injury…