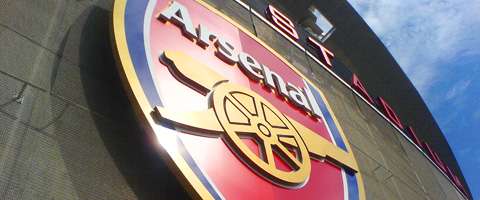 This weekend marked another significant step in the fledgling career of Arsenal's Alex Oxlade-Chamberlain, as he notched his first and second Premier League goals for the club he joined for what was believed to be £12 million in the summer.
The 18-year-old livewire, who has been much coveted since he made his debut for Southampton back in 2010 at the slender age of 16, bagged a brace in the 7-1 drubbing of Blackburn on Saturday. This was much to the delight of the Emirates faithful who were desperately seeking a win, to repel some of the criticism coming Arsène Wenger's way following a poor run of results.
If we trace our mind back, two-and-a-half weeks ago to a wintery Sunday afternoon at the Emirates when upon 74 minutes, young Chamberlain was substituted for Andrey Arshavin against Manchester United. Yes, the substitution that came under heavy scrutiny as Arsenal just levelled the game and Oxlade-Chamberlain had been arguably the best player on the pitch, with Arsenal going on to be defeated 2-1.
Hindsight now informs us that this error of judgement from Wenger may have been the best thing to have ever happened to the youngster fondly regarded as 'The Ox' this season.
Not only did Wenger and Arsenal fans now finally recognise that Chamberlain has the right temperament and mental strength to handle a big game like Manchester United. They also saw that he has enough skill and directness in his wing play to truly add some firepower to an ailing Gunners outfit, who continue to rely heavy on the exploits of star striker Robin van Persie.
Many Arsenal and football fans alike are now pondering, just why wasn't he introduced sooner?
Sparing three Carling Cup ties and two Champions League games, Chamberlain only made his Premier League debut last month in the shock defeat to Swansea City as a second half substitute. He has faced competition for a starting berth on the flanks in the form of Gervinho and Theo Walcott with the latter coming through the same Southampton youth system. Naturally, comparisons have been drawn between the 18 and 22-year-olds.
But with many Arsenal fans growing tired of Walcott's inconsistencies, and Gervinho away at the African Cup of Nations, there is great excitement around 'The Ox's' recent first-team involvement, and that the next few months represent his big chance.
Arsène Wenger said of the young prospect "Chamberlain has made big steps in the last few months. He has improved very quickly. He is a fighter as well, with personality, and is much more mature now".
His evergreen performances, reminiscent of a seasoned professional, have led to some even touting a call-up to Fabio Capello's England Euro 2012 squad in several quarters. But it must remain paramount that his development is not rushed and remains on a steady footing.
After all, it was indeed Theo Walcott who too found himself in this very position back in 2006 whereby he earned an astonishing place in England's 2006 Germany World Cup squad after just a handful of senior appearances and looking back, maybe even Theo would admit that this opportunity came too early in his career.
Nevertheless, you cannot begrudge what the man with the double-barrelled surname has achieved so far. He is certainly a player on the rise and is one to keep an eye on for the remainder of the season. He is Arsenal's Alex Oxlade-Chamberlain.
Written By Taylor Wright