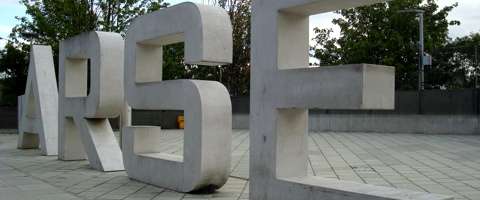 A man dressed in green wearing one of those pointy, droopy hats with a small ball at the top, anxiously paced the town plaza. With a bell in one hand, he suddenly bellowed; "the art of tackling is dying!" Passers by walking by looked at him not knowing what to make of the claims because deep down, they knew there was an element of truth to it. He shouted the same phrase again although this time to little reaction as people hurried to resume their daily lives with the words ringing in the conscious; is the art of tackling really dying?.
Okay, so perhaps it wasn't so melodramatic as that but rather an inconspicuous statement by Ian Wright in an article for The Sun. However, it was a rare bit of insight from the former Arsenal striker, which, with a bit more expanding will have gone a long way to belie his recently acquired "jester" tag. In the article he wrote: "In my opinion, the art of tackling is dying and many current Premier League players think they can tackle – but a great many can't. This is why we are seeing an increasing number of broken bones and ankle injuries." Certainly with the increase in the number of traumatic injuries and mistimed tackles it begs the question, just what has happened to the state of tackling and is, as Wright says, really dying?
This Premier League season there have been eleven red cards which may not seem very significant but it is, only because just under half of those – five – have involved Arsenal. The Gunners have accrued two red cards and their opponents have amassed three. Perhaps also, it is not surprising in some ways that Arsenal has been involved in the most dismissals because their style – the accuracy, speed and intensity they pass and move the ball – makes the margin of error in the tackle that more difficult. Similarly, the expansive nature of Arsenal's style can work against them as it creates gaps at the back while they themselves are not susceptible to getting embroiled in some of the meaty challenges that are dished out due to the passion and intensity of the English game. Indeed, let's not forget that under Arsène Wenger the Gunners have received more cards than the Fonz on Valentine's Day. Which, leads us to a salient point that is that the tackler has always been an important part of the Arsenal teams throughout the years.
The double axis of Patrick Vieira and Emmanuel Petit remains famed for their belligerent manner in midfield. Adept at stopping attacks as well as spring boarding their own, it was the perfect base for which to build play around. The two holders reached it's apex in 2004 when Patrick Vieira partnered either the studious Gilberto Silva or the underrated Edu as Arsenal went unbeaten for a whole league season. Going further back and the notorious George Graham sides of the late eighties and early nineties loved nothing better than getting stuck in. Of the legendary back four and Tony Adams, who Wenger later inherited as captain, the Frenchman said; ""When I first came to Arsenal, I realised the back four were all university graduates in the art of defending. As for Tony Adams, I consider him to be a doctor of defence. He is simply outstanding."
George Graham was part of the side that beat Liverpool 2-1 in the 1979 FA Cup final and consequentially did the Double. Peter Storey remained a mainstay of that successful era and did his job in a way every aesthetic pleasing side needs: tenaciously and hungrily as he won possession back on a countless of occasions and in 2007,The Times rated Storey at number 26 in their "50 greatest hard men" list. But we must go way back to 1929 when Arsenal's love affair with the tackler started, when visionary manager Herbert Chapman, first developed the W-M formation. He was looking for an uncomplicated player to play as his centre-half at a time when the position was undertaken by a fancier player. Chapman found Herbie Roberts, a gangling ginger-haired defender who in simple terms did what he was told – winning the ball back and starting attacks quickly. It set the groundwork for another successful period for the Gunners.
The current Arsenal side is perhaps more known for it's vibrancy and attacking play but it's central midfield – with Abou Diaby, Alex Song and Denilson – is probably more about graft than craft (although Jack Wilshere has made himself undroppable in the centre). Indeed, this set-up is somewhat necessary as it is geared towards winning the ball back, even if fans and critics alike may be scornful of their lack of bite. The full-backs love to anticipate and intercept the ball; Thomas Vermaelen changed things at the back for Arsenal by helping to attack the ball quickly while even the promotion of Emmanuel Frimping over Craig Eastmond signals the importance of winning the ball back quicker. That current responsibility, perhaps more than most, falls on the shoulders Alex Song but in recent games, the Cameroonian has been moved higher up the pitch. Against Partizan Belgrade he played ahead of Denilson and similarly against West Brom, he did so in front of Diaby. It baffled fans somewhat because Song had been mightily effective last season halting attacks and resuming attacks with simplistic effectiveness but this campaign, he has had a somewhat patchy start.
Wenger's reason for the change was may be indicated by his comments at the latest Shareholders Q & A session where those present at the meeting would have no doubt noted the number of times he mentioned the increasing speed of the game. Today football is played at a much higher intensity, with the ball being passed quicker and the improvement of fitness meaning players run more. With that in mind, it is no surprise then that Arsenal have been involved in the most red cards as their two dismissals have been in trying to win the ball back quickly; Koscielny was sent off for a handball in trying to stop a counter attack and Song similarly against Sunderland by bringing down Steed Malbranque.
The increase in speed and fitness exposes technique (the need to pass the ball quickly) and that saw Denilson pushed deeper. It also follows the trend in todays football whereby many teams have discarded the destroyer that was prevalent during Vieira's time and inspired before then by the likes of Makelele, Deschamps and Dunga. You only have to look at the effect this has had on Premier League clubs as many have abandoned the idea of playing destroyers in the middle for ball-playing midfielders. Even Tottenham, who had early success in converting Wilson Palacios from a box-to-box midfielder at Wigan to a defensive midfielder, have chosen to pair the technically more superior Tom Huddlestone and Luka Modric in the centre lately.
The Catalan press have questioned the need for Barcelona to sign Javier Mascherano as he passes the ball too slow despite his ability to win the ball back. His replacement, Sergio Busquets is less abrasive and indeed the trend is towards players who are not necessarily big tacklers but know when to tackle. However, Barcelona wasn't as successful last season as the season before when Yaya Touré was the linchpin in the middle and certainly, taking the example of Spain, they were less effective without Marcos Senna, who was replaced by two players – Busquets and Xabi Alonso – to do his groundwork. Mathieu Flamini's impact in this regard is understated as he essentially held the midfield on his own with his supreme fitness levels and tackling ability as Arsenal went oh so close in 2007.
It is a transition phase football has entered following the dire FIFA World Cup, whereby the team has become more important than individuals and tackling is a shared duty. Which, of course, Arsenal do realise because of their emphasis on pressing but they have always relied on a tackler. And one can't help feel, the rediscovery of form for Alex Song will be needed if Arsenal are to be strong challengers again this season.