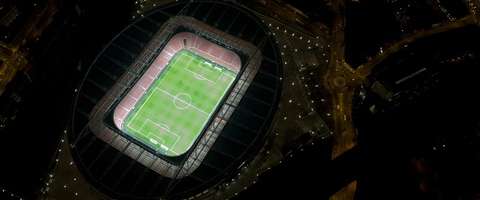 You never gain anything by booing your own player. It is enough for a player to know that the fans are angry with his display but booing starts an alienation process that does not help anybody.
Ashley Cole committed his crime against Arsenal and continued to play for Arsenal, even at Champions League finals. But most fans only started booing him after he left. The crime had not changed but fans chose to pick their battle at the right time. Unless a player has left or you really want him gone, why destroy him?
When a player loses the ball, he can hear the fans anger and that is good enough. I can contemplate booing the team off the pitch but singling out a player is counter-productive. A team can collectively respond but for single players, it is a lonely and much more damaging thing to do.
Emmanuel Eboue has been out for a month. He would not have gone on the pitch for more than 10 minutes had everything gone well. But Samir Nasri got injured and he came in on the wrong side of the pitch. I felt Denilson would have handled the wrong position better so that Eboué could be on the right. From the start, it was stacked against him.
After a series of errors (and a few players were also guilty) Eboue lost confidence since the fans picked on his errors much more severely. Kolo Touré was coming out with the ball and Eboue did not want to take the ball on his wrong foot down the wing – he already knew he could not beat anyone down there. He wanted the ball from Touré to go in-field but Touré wanted him to make a run. They both gestured opposing signals, got each other confused and Eboue reacted to pass back and lost the ball again. The fans let it rip on him.
Eboue became an unfortunate outlet for the fans' frustrations from a tough start to the season. He was booed because Arsenal have had a tough start and the fans are terribly frustrated, because his attitude in the past got on the wrong side of the fans and because many bloggers and commentators have found Eboue an easy target – none of them have been bothered enough to explain what he brings to Arsenal as a utility player who has been described by Arsène Wenger as very loyal, liked by his team mates and never complains about being on the bench.
Yes, he has failings but we don't break our own players and we should understand that he is useful. He can fill 3 positions and had he been fit a week earlier, might have kept us in the Carling cup. Arsenal is playing in the Champions League, the FA Cup and the league. Our injury situation is not great. Bacary Sagna and Nasri looks like they are entering an injury cycle like we saw with Robin van Persie. We need all the players we have. Of course we are entitled to be angry and shout "Wake up!" But booing is simply counter-productive.
I will explain why I am concerned enough to write about this. I think Alex Song and Denilson are suffering (among some writers and bloggers) similar bad press about their quality and suitability for Arsenal and we would destroy their progress if we did the same booing to them. We have a part in helping players grow. We can be angry but we should not boo. They should still feel supported.
In this period with lots of injuries and many changes since the start of the season, a lot of young players have had their first opportunity to show whether they can really do it at this level – Carlos Vela, Aaron Ramsey, Nicklas Bendtner, Song, Denilson, Johan Djourou, Abou Diaby. Of those players, I think Djourou, Song and Denilson have really staked a credible claim. Djourou had a great game with Song against Wigan in the Carling cup and then at Chelsea and Wigan again today.
Denilson is still lightweight but his connect play keeps us moving in midfield. He covers a surprising amount of ground and completes a lot of tackles. He also wins free kicks more often than he loses the ball. Denilson's statistics are pretty impressive when you look at them away from a game.
Song had a good game against Manchester United, Dynamo Kyev, Chelsea especially (playing in a 4 man midfield) and now against Wigan Athletic. He is great in the air in midfield and at the back and tracks back very well. He has increased in his urgency on the ball – could still be better but he doesn't lose many.
He is one of the Arsenal players (along with Djourou) that can actually use their body strength and can tactically foul a player. His athleticism surprised me against Chelsea and Wigan where Arsenal lined up 4 in midfield. I must admit he looks good near Francesc Fabregas and I am really hoping that he continues to grow.
When both Adebayor and van Persie play, Arsenal do not lose and I saw some statistics which showed that we actually play more long passes when we play 4-4-2 with van Persie and Adebayor both on the pitch. The stats also show that the higher our long pass percentage, the better the result. Who would have thought that Arsenal now survives better with route 1?
Seems like Cesc is out for the Porto game. Myself, I would play Ramsey in his place. Nobody else can find the passes that Cesc finds as much as Ramsey. It is a game we can lose so it is worth giving him a chance with a strong team round him. We have to prepare for Middlesbrough and Liverpool and it starts in FC Porto.