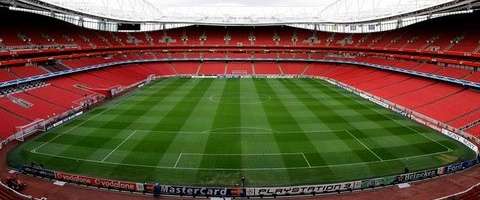 In a desperate effort not to tempt fate, Arsène Wenger really does have an embarrassment of riches in his squad when the team is fully fit. The lack of another midfield arrival during the past transfer window suggests there is great faith in Jack Wilshere and an imminent return from injury. In turn, it rightly sparks the question as to whether Wilshere can team up effectively with Mikel Arteta and Santi Cazorla in the Arsenal midfield.
Here's my problem with the view of football in England: there's an overwhelming emphasis on strong, combative powerhouses in the midfield. Teams apparently need Yaya Touré's and Daniele De Rossi's to compliment the smaller technically gifted players. But isn't the point of the Premier League that it offers up a diverse range of football qualities and philosophies? Germany is constantly overlooked because perhaps people don't believe there is much worth in a Dortmund vs. Schalke game. And we all know how casually La Liga is brushed aside because of the clear dominance from Barcelona and Real Madrid. But English football prides itself on the underdog, a product where anyone can beat anyone, and not simply by playing the same style of football.
If Arsène Wenger were to turn up in Spain and present a midfield trio of Wilshere, Arteta and Cazorla, he'd be praised for his work to combine the three, and there would certainly be a lot of interest and excitement as to how fantastically they can function. In England and back in reality, the question marks are raised as to what good a group of midgets can do against powerful midfields. Well, they'd certainly have a very good chance of passing their opposition into submission. But I think that side of the game is a little lost on most in England.
Instead, lets have crunching tackles from hardworking henchmen, as oppose to slick passing football from wonderful technicians. It's clear how Wenger would arrange this trio of midfielders: Arteta as the deepest point and the anchor, while Cazorla operates furthest up the pitch. Not to sound too unrealistic and bordering on stupidity, but Barcelona play a brand of football that doesn't rely on powerful midfielders patrolling the centre of the pitch (and yes, I am aware of their purchase of Alex Song). Instead, their group of midgets (to remain on that train with the unimaginative bunch who thought it up) have dominated football by actually playing football.
Who cares if three of Arsenal's best midfielders are all under 6'2? Who cares if they find strengths to win matches that don't exactly add up to what is the norm up north? What happens when they turn up on a wet Tuesday night in Stoke? Fortunately, Arsenal have already got that one out of the way early.
This trio of players might be the closest thing Arsène Wenger has to realising the possession-based winning game since he had a midfield consisting of Cesc Fabregas, Alex Hleb, Tomas Rosicky and Mathieu Flamini. That side were four points off top place at the end of the season, yet there was no signs of a powerful figure in the midfield.
But this whole argument of the three midfielder's height is annoyingly similar to the theory that you can't win trophies with kids. If they're good enough, what difference does their height or age make? If the rules of the game were really enforced properly, teams like Stoke wouldn't be able to get away with tackles that have no place in the game. No, I'm not advocating the abolition on tackles, but something needs to be done about the recklessness in the game. A 6'6 midfield machine put together in a factory in Mordor is just as likely to pick up a career-threatening injury as a 5'6 midfield magician.
The real questions should be whether Wilshere can return to his best. He's already locked horns with Barcelona and looked outstanding in a midfield against three of the best in the world. At what point do we all realise he actually has Barcelona DNA? But even if Wilshere only operates as a "part-time"player this season, he'll still be able to rotate in and out of the side with Abou Diaby, who also seemed to strike up a good understanding with the Wenger's Spanish midfield duo.
Written by Thomas Hallett