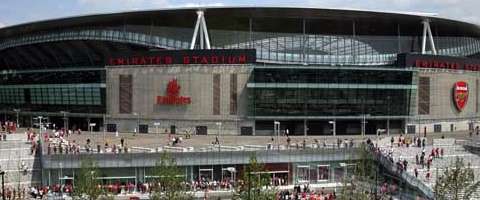 I wanted my feelings about this "deal" to be my own, not influenced by the words of the manager, the player, the agent, the pundits, the players of the other team, or anyone else. Unfortunately, I couldn't help but read the excellent post-mortem by Helen Trantum, which I feel did sum up the "saga" in a precise manner.
Having said that, I do want to offer a few thoughts on the willing departure of the Arsenal Captain, a player in the supposed prime of his career (we'll see if his hamstrings support both him and that assertion) who had signed a long contract and was earning top wages at one of the world's biggest (careful!) football clubs. That sentence should be a clue to you as to what I feel about it.
There is much to be criticised about the "way" Arsenal Football Club handled this affair. You could go all the way back to the attempts to balance the books on the backs of teenagers. I give you this quote from Le Boss pending the move to the Grove:
"We are building a stadium, so I will get young players in early so I do not find myself exposed on the transfer market without the money to compete with the others. I build a team, and we compensate by creating a style of play, by creating a culture at the club because the boy comes in at 16 or 17 and when they go out they have a supplement of soul, of love for the club, because they have been educated together. The people you meet at college from 16 to 20, often those are the relationships in life that keep going. That, I think, will give us strength that other clubs will not have."
Well, so much for that.
There's also the utter disrespect – no, that's not strong enough – I mean contempt that Barcelona showed Arsenal for what amounted to years. I don't need to talk about it other than to say it would please me greatly if those prats never won anything ever again. Of course, this won't happen, because that's just how things go – evil triumphs over good and bad behaviour goes unpunished in football. If you watched the NUFC match this weekend, then you know what I mean.
Yet while Barcelona's conduct was absolutely vile, the party that deserves the most scorn is Fabregas himself. Yes, I wrote that, and no, I don't think I should apologise for it.
For those of you who feel that hooting down Samir Nasri or chanting things about him is a valid expression of distaste for a player who is somehow "betraying" Arsenal, while at the same time bidding fond farewells to the club captain (why must I choke on that every time I see it?), I ask you: Which player was dishonest about his intentions? Which player signed a long-term contract (which allegedly would benefit the club by increasing ANY transfer fee)? Which player wore the armband?
I see nothing in the world dishonest or disloyal in Nasri's conduct. For a player who has scored one "wonder goal" v. Porto, and had at best a six month spell of productivity at the club, I feel that he has comported himself properly and, as is his right, has chosen to play out his contract. Arsenal made an offer, and Nasri chose to reject it. Fair f***s to him. I've been in that situation and I understand his choice.
Yet imagine if Nasri had chosen to sign a long-term contract extension and then started all the nonsense of pining for the fjords and whimpering and cowering and then, through his obvious unwillingness to play for the club with which he'd SIGNED that long-term contract, rendered said document worthless and got away from the club for a cut price?
Well, I'd call him a very filthy name and hope he got a terrible sunburn on his Spanish holiday. I'd hope he failed at his future endeavours. I'd hope that, as he showered with other Barcelona midfielders, the subject of his DNA became a hot topic. And most of all, I'd hope that he never, ever, experiences the affection he could've received from the faithful supporters of the club to whom he owed his allegiance.
But that's not what Samir Nasri has done. And it is most certainly what Cesc Fabregas has done.
For me, it all comes down to that contract, and the fee agreed upon. I don't care about loyalty to the club as an ideal, or the way he made you feel, or that horrible backheel. I don't care about "that goal against them," or the Villa game, or what he did v. Juventus – I don't care. Footballers come, and footballers go. I'm amazed at the reaction I've seen from supporters today – clearly they don't remember what it felt like when Arsenal sold Brady, who was miles away a better player than Fabregas (fire away, modernists!). And for that matter, Helen pointed out that he had become a chronically injured player. "The final point with regard to Cesc is he has started just 22, 26 and 22 games respectively in the last three seasons." See that? You're weeping in your pints about a bloke that started 22 matches (and wasn't available for the Carling Cup final, his "last shot at a medal." Ugh.)
So the contract, and the fee agreed upon, is the filthiest aspect of it all. I don't give a toss if wee Cesc sat alone in his room each night, whimpering Catalan tears into his pillow as he dreamed of bathing alongside Xavi and Iniesta in the Barcelona changing room. I don't give a toss if he is from there. I don't give a toss if they win every trophy from now to doomsday.
You signed a contract, son, as a professional football player, and that should've prevented all these issues from manifesting themselves. We all know how it works – if you sign a contract, it can be broken by either party as long as everyone agrees to the manner in which it can be broken. This did not happen this summer. The club captain (god I cannot abide typing that!) blackmailed Arsenal to engineer a move away for a price that I believe ends up being 15 million quid below what it should've been.
Read that again. The club captain essentially forced the club to take a 15 million pound hit on his sale price. FORCED.
If you can abide that, you're truly a better supporter than I will ever be, because as Arsenal purport to be a club that "is run the right way," 15 million is the equivalent of a 17 year old from Ghana who has scored 3 goals in the Belgian League! And by gosh we can't just take that kind of hit, can we?
Lee Dixon (he used to play for Arsenal, children) said in the Mirror over the weekend that the cannon on an Arsenal shirt is worth more than anything else. I'm sure that's an antiquated idea to most of you, but for me, it perfectly sums up the value of a player's contract. The contract ought to be the ultimate expression of loyalty. Fabregas signed a long-term deal that should have either guaranteed his time at the club or a significant transfer fee should he have left. Instead, it did neither. He gets to leave the club (the club that gave him the opportunity to become Cesc Fabregas, famous footballer, instead of a reserve who couldn't crack the team sheet at Barcelona) on his terms, at the moment he wanted, at a price that benefits the buyer, not the seller.
How on earth can you bid a tearful farewell to a player who did such a thing? Leave, stay – it's irrelevant to me. This kind of sentimental claptrap is what's wrong with Arsenal in the first place. Man United sell Ronaldo (for what I might even say was an inflated price) and immediately snag Antonio Valencia. That's the way a big club does it. I think MUFC overpaid for Valencia, but you see, when you know a club has money, you can ask for more. If the only club interested in him was Blackburn, he wouldn't have gone for that price. Barcelona treated Arsenal as though it were Blackburn, and the more than willing accomplice was the Captain (vomit) himself. Wenger says this wasn't about money, but ultimately, it IS about money. It's about the money Arsenal didn't get.
Gracias, El Capitan. Go in peace, and indifference.