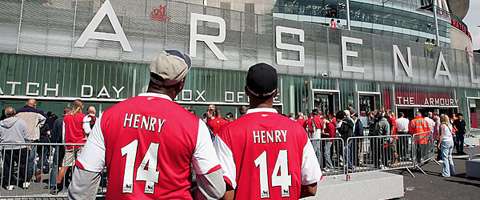 I'm not going to comment, today, on what is or isn't going on a couple of miles up the road at Highbury House. I'm not even going to comment on what went on a couple of days ago in Kuala Lumpur as Arsenal beat a Malaysia 4-0. Frankly, any game where Tomas Rosicky is able to get himself on the scoresheet should not be deemed competitive. So, I'm resolutely going to ignore the annual Carlos Vela chip, the bizarre Denilson on as sub and off again 20 minutes later and the apparently promising first sightings of Ryo Miyaichi and Carl Jenkinson in the red and white.
I am. Instead, I'm going to talk about probably my favourite ever player of the Arsène Wenger era and a man, I think, Arsenal have never really properly replaced. I refer, of course, to the man who announced his retirement from professional football yesterday, "le grande saucisse", Patrick Vieira.
It goes without saying that there have been many words written about Vieira, both during his, ridiculously successful playing career and in the aftermath of his retirement. Most of them written by Arsenal fans still so grateful for the fact that we got to watch him across 9 years, the best years of his career. One statistic that jumped out at me in amongst the several that are routinely used to measure someone's career was the fact that Patrick won at least one trophy a season between 2000-2011 (thanks @ScottyDavisAFC). Of course, that doesn't take into consideration the fact that in 1998, Vieira had one of the best years a professional footballer could have, playing a huge part in Arsenal's double triumph before setting up the third and final goal (for Arsenal team mate Emmanuel Petit) in France's World Cup triumph the same year.
Simply put, the guy was a winner. I don't know about you, but whenever I saw Vieira in the tunnel, wherever we were, whoever we played I felt that we always had a chance. And more often than not, we did. Conversely, when he made a premature exit at Old Trafford in the FA Cup semi final of 2003, it was difficult not to feel he was taking our title chances with him (he did). A Four Four Two cover sometime around the turn of the millennium featured Vieira and a caption, "Hard, mean and a little bit tasty… don't you wish he was English?" Or words to that effect. It was a very neat summation of the qualities that Vieira had.
What that cover couldn't talk about- because how could you on a magazine cover?- was the magic that lay in his boots, the way a crunching tackle, or a simple flick and a spin, on the edge of our box would preface a long legged stride up the pitch and, as often as not, the ball in the opposition's net. There were the battles with Roy Keane, the habitual goals against Spurs, including the one that only he could have scored as we won the title unbeaten- well, who else would have been able to stick out a telescopic leg to bury Henry's cross? The equaliser in an FA Cup semi final that was so one sided a game that finished 2-1 could easily have finished 10-1 and, one of my personal favourites, a last minute header to deny Spurs victory when they must have thought they had weathered an almight shit storm from us. There was also his final act in an Arsenal shirt, with which he battered the winning penalty past Roy Carroll to steal the FA Cup from Manchester United and make Rooney and Ronaldo cry at the injustice of it all.
It's difficult even now, with the benefit of hindsight to say for certain whether selling Patrick when we did was the right thing to do. I don't think it's any coincidence that in replacing him with the more cerebral Fabregas, we made the final of the Champions league but saw our league form nosedive to the extent that we were a dodgy lasagna away from being replaced in the top four by Spurs. By 2005 though, injuries had taken their toll and Vieira was clearly not the player that he once was, but I remember writing a piece called "The heart ripped out of Arsenal" on this very website (having already written two, heartbroken, pieces about his departure). I was talking, really, about the loss of a player that, for me, symbolised Arsenal and what we were about. Six years later, I don't think we've ever managed to fill the gap that he left. On the other hand, he has carried on winning medals wherever he's gone and you have to think there's a reason for that.
Reading his autobiography, it's interesting the way that Arsène Wenger compares his mentality with that of Thierry Henry's. I felt that Arsène saw coaching potential in Patrick in a way that he didn't with Thierry; it seems as though Patrick, in Arsène's opinion, is better able to calmly analyse a game and work out what might have gone wrong- where it has. It is for that reason that I do think it's a shame we haven't brought the captain of the Invincibles home in a coaching capacity, but as others have noted, it's not something that I feel that the Arsenal management team should be beaten over the head about.
Not when there's so much else to talk about….