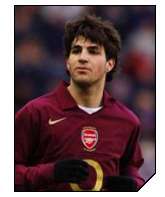 Our opponents on Sunday had a contrasting week to us. Last year's Champions League winners were knocked out of the competition by Benfica while we progressed thanks to a Thierry Henry goal in the first-leg of our clash against Real Madrid.
Arsenal built on the delight from Wednesday night by handing Liverpool their second defeat of the week. We had the better of the first half and opened the scoring midway through the opening half when Cesc Fabregas sent a beautiful ball down the left flank for Thierry Henry, whose shot curved around the keeper and into net.
We deserved the lead and took it into the second half. Liverpool came back into the game in the second thanks to a goal from Luis Garcia who capitalised after Jens Lehmann failed to hold onto a Steven Gerrard long-range shot. Liverpool were reduced to ten men soon after and so was our lead.
Steven Gerrard's misplaced backpass in the last ten minutes handed us victory and ensured us a return to the top 5. He passed the ball back to the Liverpool keeper unaware Thierry Henry was lurking between the Liverpool goal and defence. Henry latched onto the weak back pass, rounding the keeper and prodding the ball into the then unguarded net.
Here's how the team performed:
Lehmann: The goal was Jen's fault but I won't hold it against him as he had another decent match and has been fantastic for us all season.
Touré: A solid match for our Ivory Coast defender. Kolo saved us in front of goal on many occasions and put his body on the line for our team. It is really good to have him back after the African Nations.
Senderos: Phil had a solid match alongside Kolo Touré. He is trying really hard and has undoubtedly grown from his time in the first team. He is still young and is still learning.
Eboue: Emmanuel had another good match at the back and has shown real progress since his return from the African Nations tournament. He made a lot of runs up front and provided support to our wide midfield players.
Flamini: Mathieu is doing so well in the left back position despite it not being his natural role. He has settled into the role very well and is even making runs upfront like Cole used to.
Gilberto: He had a very good match in the middle of the park alongside Fabregas. He made numerous passes to the lads upfront while still providing another wall of defence in front of our goal.
Fabregas: Cesc had another brilliant match and it is no wonder Real are sniffing around. He provided Henry with the beautiful pass that made the opening goal and outplayed Liverpool's centre pairing. He was all over the pitch on Sunday and is just getting better and better each time he plays.
Ljungberg: Freddie went off injured in the first half. However for the time he was on the pitch he was lively and looked much more like the player we know and love. Loved the hat he was wearing while on the bench (wink).
Píres: Bob replaced Freddie and had another great match. He has been really good of late and should have got on the scoresheet late on in this match. It's good to see him playing well and this form has come at the best time for us.
Hleb: Alexander had another good match and has really improved his game recently. He has found his role in our team and is now doing it to perfection. He has proved he was a good buy in the summer, to me anyway, and I just hope he keeps up this good form as we go into the season's run in.
Henry: What can I say about Thierry that hasn't been said already? He is just brilliant and is so important to our team. The first goal was typically Thierry Henry and the second just shows how determined he is to get 4th spot. He made numerous runs out there and is currently in the mindset that can terrify opponents.
Adebayor: He looked alert out there but is still trying to find his place in our team. He had a couple of chances and missed an absolute sitter. He has to work on his finishing.
Overall We played very well as a team and built on our success in midweek. We are looking more confident and comfortable in every match and it is really comforting to see as we begin the run in to the end of the season. 4th spot is looking more and more realistic and if we keep up this great run of form I don't see why we cant make it.
Next up we face Charlton at Highbury who we beat 1-0 earlier on in the season.
The Official Arsenal-Mania Man of the Match for this game is Cesc Fabregas who was just superb out there on Sunday. Cesc won the award with 48% of the votes; closely followed by Thierry Henry who had 45% and Alexander Hleb who had 4%.
Quotes from the MOTM voters:
Cesc the Genius. nidza7
Gerrard was MOTM. What a magnificent back pass with superb skill. Henry_Píres