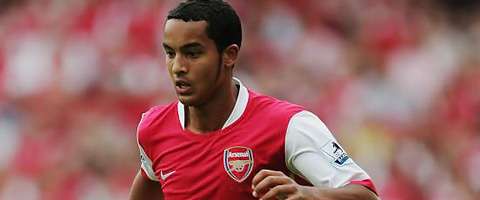 Well, I think you'll agree that as Christmas presents go, that wasn't just a flatscreen tv. No, it was more a 50" inch flatscreen, complete with cinema surround sound and Inception DVD. It was funny too, because prior to writing yesterday's blog, as you may have picked up, I wasn't feeling too confident about the game. But I felt better after writing. By the time Asa, Marc, James and myself were enjoying a pre match pint outside block 24, that little bit of confidence I felt had become a spine tingling sensation that it was going to be our night. And that wasn't based on another of James Craddock's gut feeling we were going to win, because the last time he had one of those was against Spurs last month. And we all know how that turned out.
As the team news had filtered in via the Tolly's televisions and various I-Phones, it was gratifying to see, as I had hoped, Djourou restored to the team and Walcott given the chance to prove himself the "key" I thought he might be. These were selections that paid off handsomely last night, with the immense Djourou doing a passable impersonation of Sol Campbell (chim chimney chim chimney chim chim cheroo, who needs Sol Campbell when we've got Djourou), 2004 Sol Campbell, not mentallist Sol Campbell. As for Theo, well, if conventional wisdom dictates that any left back worth his salt should be able to deal with the Newbury flier, then that doesn't say much about the talents of Chelsea and England's left back, whatever his name is. Theo ripped him to shreds last night.
In truth, as I'm sure you're aware the first half, although played at a frenetic pace with us in control, was a bit low on goalmouth action. The closest Chelsea came was when Laurent Koscielny inexplicably passed straight to Drogba, who strode through but was, for once, miles off target. For us, Samir Nasri was, unsurprisingly, the man to the fore, with a vicious free kick nonchalantly plucked out of the air by Petr Cech and a more artful chip just tipped over the bar. There was a Gaël Clichy right foot swinger, but to call that a shot on goal might see up before the Trade Description people. It felt like so much we'd seen before, our intricate probing against a resolute defence, with Chelsea looking to counter with long balls, yet it also felt strangely different- there was a total conviction about everything we did last night. As in so many games we've had with Chelsea recently, the game's decisive moment arrived with half-time beckoning. Unlike so many of those games, it was us celebrating as Song drove forward, laying the ball off to Wilshere, Wilshere's pass to Fabregas saw Ferreira fouling him, but before the penalty shout could go up, Song guided the ball just inside Cech's far post. With his left foot. Watching the repeat of Monday Night Football, I see Arsène had- not unreasonably- underlined the importance of the first goal. For once, we had it.
It made half-time a much more relaxed experience than it might have been already. What would follow before sections of the crowd had returned their seats sent those of us in our seats, or at our seats, delirious. A hint of what was to come arrived as Chelsea kicked off the second half only to be dispossessed almost immediately. Minutes later, Essien was forced into a pass towards Chelsea's left back. Except the player occupying that position wasn't paying attention, Walcott was onto the ball in a flash, driving into the area and drawing Cech, before squaring the ball for Fabregas to slide the ball into an empty net. And as if that wasn't enough, what felt like seconds later, Walcott's pace allowed him to nick the ball away from a Chelsea defender to Fabregas, Cesc's return pass to the winger was like a gift from the gods and it took out John Terry leaving Walcott free and clear to smash the ball past Petr Cech and inside his far post. Pandemonium. Ending up five seats from where you were standing, turning your ankle (hope it feels better soon, James) pandemonium, high fiving strangers ecstasy.
A text from Asa had half-time wondering if we could hang on just this once had me replying that perhaps we could dare to dream of going one better. That we had, in some style too. Of course, Arsenal being Arsenal, they had to introduce an element of doubt into our mass celebration. Just minutes later, Drogba's free kick from the left found Koscielny sadly lacking as he allowed Ivanovic a free header. From what felt like Chelsea's first shot on target, they had scored. Although that goal did bring a nervous edge to proceedings, in reality if there was going to be another goal, it was only going to be the boys in red and white scoring it. Nasri might have and probably should have done better when in on goal, Diaby (who had replaced Walcott) took his usual five minutes to decide what to do when presented with a great opportunity to score and, at the death, Rosicky not only managed to hit the post, but somehow got himself offside anyway after a great break from Song.
But these are not complaints, and nor should they be, because that was one of the best performances I can remember seeing from an Arsenal side. It gave a thrilling taste of what life could be like if only we could come up with that 100% application, 100% of the time. You know, we are told so often after these matches that it was men against boys (I'm guilty of it myself), but if it was men against boys last night, then it was that thrilling moment when the boys make the men look very old indeed. Watching the faces of Terry, Lampard, the left back and Drogba as they came over to acknowledge the Chelsea support next to us, there seemed a realisation that the tables had been turned. Is this the moment when the power shifts back to the red and white corner of London? Given what I have said about Arsenal recently, I wouldn't like to say. What I can say is that Curtis Mayfield's Move On Up that greeted the final whistle never sounded so joyful.
James and Marc had to shoot off back to Northampton, which felt a bit cruel after the post mortems we've endured this season. Asa and I met up with Simon and headed off to the World's End for some celebratory beers and the Ashes- that's going well, isn't it? I missed the last tube so headed off for a nightbus to Trafalgar Square. It was belting down, but that couldn't dampen my spirits. Especially not after running into a Gooner who had put £20 on Song to score the first goal and was eager to share a little bottle of Smirnoff with me. Rarely can getting in at 2.30am have been such fun.