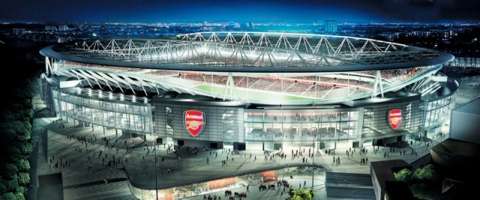 Wojciech Szczesny concedes three but still a talent
The Arsenal goalkeeper has the charisma and confidence to match Jens Lehmann and last night, despite conceding three goals, he showed he has the talent. Wojciech Szczesny was commanding from set-pieces, important as there was to be plenty of balls aimed up to Peter Crouch and made one superb save when Luka Modric ran into the penalty area unmarked. The score was at 3-3 and with one outstretched leg and the momentum taking him the other way, he saved Arsenal a point. However, he could have done better for the first, allowing a powerful Rafael van der Vaart shot to squeeze past his near post. Szczesny also conceded the penalty to round off an impressively mixed performance.
Tottenham's energy alleviates man disadvantage
This was a fantastic game of football with both sides going all out for the win. Arsenal played their usual 4-2-3-1 with Cesc Fábregas playing at the tip and initially their natural creation of triangles came out on top. However, Tottenham are known for their energy and their propensity to push men forward and this alleviated any numerical disadvantage they started with. The 4-4-2 gave Arsenal problems as it stretched play and with the extra space, Crouch and van der Vaart were able to drop into pockets between midfield and defence. That meant they could theoretically make a four man midfield in the centre to outnumber Arsenal's three. Crouch dropped off the Arsenal centre-backs to attempt to link up play while van der Vaart was a constant menace, never sticking to his right-flank. This enabled him to enter the danger area unmarked and delivered Tottenham's first blow, getting on to a through ball to squeeze home. Diaby tried to track him but the goal was symptomatic of Spurs general speed and commitment of resources forward.
Arsenal passing accuracy was at 78% and that indicates best, how well Tottenham's pressing game worked.
Who says Cesc Fábregas doesn't care
Arsenal raced to a 3-1 lead and in parts, looked back to their glorious best. Much of that was down to influence of Cesc Fábregas who again showed why Arsenal must match his ambition. He is crucial to the Arsenal cause and initially allowed them to dominate. He did this by dropping deep to collect the ball thus enabling Abou Diaby the freedom to get forward. Most importantly, this made Arsenal's best player and passer harder to mark and he was able to play Theo Walcott through for the first goal. And his link up with Samir Nasri helped create space for the second. Emotions seemingly got the better of him at times and at the end of the first half in particular, when Spurs pressed for an equalise at 2-1, his frustration was visible for all to see. He desperately wants to win for Arsenal but he also needs Arsenal to win for him too.
Arsenal need to learn "Recovery Possession"
In a coaching seminar delivered to aspiring and senior coaches alike last season, Pep Guardiola highlighted the growing importance of "Recovery Possession." In simple terms it's the positioning and intensity of the team to allow them to win the ball back quicker. This season, Arsenal have tried to use the Dutch principles of through-marking when they press the ball; positioning themselves so that they eliminate their opponent's passing options. This works because the players look to back up the man who presses by sticking tight to the other opponents so they are unable to receive the pass. It's an effective way of squeezing space but Tottenham's movement and wide 4-4-2 stretched play and in recent times, the tactic has become more unstructured. On the break this make them more vulnerable but it also means in open play, they are also likely to concede chances. Arsenal had trouble tracking Tottenham's runners and that always ensured the game was never over at 3-1. Perhaps the substitution of Abou Diaby had a bigger impact than what was first thought but Wenger was unhappy with the amount of space Arsenal were giving and he was quickly whipped off.