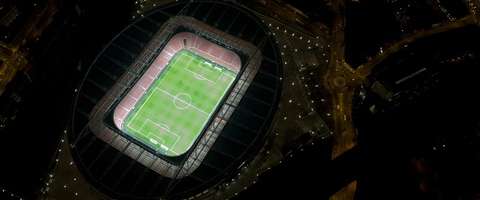 I'm not generally much into match reviews, but I watched the game from a Sp*rs stand last night, and it has really helped put things into perspective. Having had to hide my feelings for the whole match, it came as something of a surprise to find that a lot of fans are again down on the team, when the overwhelming feeling as I left that dive was one of positivity.
If we look at the team as a whole, the tempo and the desire was certainly there, and in contrast to recent games, so were the crisp passing and off the ball movement which have become our trademark. Sp*rs, meanwhile, spent much of the first half chasing shadows and being pressurised into misplacing passes.
Up front van Persie held up the ball well, bringing the midfield into play, and seemed much less isolated than in other games recently. However, the most interesting part for me was the positioning and movement of Theo Walcott. Often, he sticks to the touchline, only coming into play when Fabregas knocks one over for him to run onto, and we have seen a fair few crosses converted by van Persie this season. However, we have also seen games where Theo has just been marked out of the game by the fullback, which I think happened a little in the second half.
Yesterday, for the first half at least, Walcott caused Gallas and Dawson all sorts of problems by often playing higher than van Persie, and he ran the line beautifully for the opening goal, and might have had a second later in the half. Nasri had a decent game, although he seems to have dropped a little in confidence, and doesn't take players on much any more, in the same way that Arshavin has started playing the percentages a bit more. I do think we lack a winger who can beat a player in the way that Nani or Ronaldo can. Theo can get behind with the right pass, but he doesn't have the skill to do it alone. There was obviously the offside goal which wasn't, too, and all in all, I thought our front three played pretty well, all in.
I think we were more successful in linking midfield with attack last night, largely because Fabregas played much deeper than he has been. Our midfield shape is generally a triangle with two from Song/Wilshere/Diaby at the base, and Fabregas at the point. In the Liverpool game, I felt that Fabregas was playing almost level with van Persie, which left a large gap between the midfield and the forwards, which led to a lot of passes being cut out. Last night, Fabregas played much deeper and was more instrumental in linking the play.
Song had a steady game – perhaps a little quieter than usual in terms of striding forward – but covered the back four well. The most interesting team selection though, was dropping Wilshere to the bench in favour of Diaby, and for me, it was the right decision. He was at fault for the first Sp*rs goal, and I think the defensive side of his game is definitely something to work on. However, with Dawson and Gallas holding van Persie down every time we kicked long, Szczesny ended up aiming most balls at Diaby, while he was on the pitch, and his aerial ability gave us an outlet which we haven't seen since the days of Vieira. It was noticeable that as soon as he went off, we struggled to get the ball down on the ground for any length of time.
My judgement on Diaby remains the same as it has been for a while now – he is an excellent player, with a lot to offer this team in terms of height, close ball control, and the ability to buy time, but his lack of fitness and his regular injuries mean we rarely see the best of him for any stretch of time. Height may not be terribly important to a team like Barcelona, (although they still have Busquets!) but in the English league, it is a particularly valuable commodity, and it is something that I would like to see Wenger bring in this summer. It is useful for retaining possession from goal kicks, but also, it is vital at set pieces. Once Diaby went off, Nasri was shipped out to mark Huddlestone for corners, and but for some good punches, and some wayward delivery, we might have suffered more.
Defensively, it's ironic to think that we looked pretty sound, when we conceded three goals. I thought that Koscielny and Djourou were exceptional all night, dealing with Crouch (he of the elbows and wayward arms) and Pavlyuchenko, and Clichy had a solid game, without being overly tested. Sagna has not had the credit he deserves for keeping Bale, the ludicrous PFA Player of the Year, in his pocket for the whole first half. The Sp*rs fans around me were looking at each other in confusion, asking why he couldn't get around Sagna. It got to the point where he felt the need to wander around all around the back four in an attempt to get some space, and for me, one of the most impressive aspects of the defensive performance was the way in which our players communicated to pass on attackers as they moved across the pitch. It is one of the pitfalls our opponents often fall into when we are mobile, and it is good to see our defence finally wise up to it.
I refuse to blame Fabregas for the second goal – he is at an awkward angle but still manages to clear the ball as far as Huddlestone, and those sort of strikes come along once in a blue moon, although usually for Sp*rs against us unfortunately. However, the third goal was avoidable, as Sagna lost Lennon, in what was his only error of the game, and Szczesny brought him down in an effort to cover. Perhaps Szczesny should have tried harder to withdraw his arms, once it was clear that Lennon had kicked the ball too hard, but I would rather have a goalkeeper who tries to save goals, than one who points the finger of blame at his defence. So yes, Diaby should have made a tackle for the first goal, and Sagna should have done better for the third, but overall, I think our defensive performance was very solid, against a team renowned for its attacking spirit.
Szczezza had a magnificent game, making a number of very important saves, and well deserved his MOTM in my opinion. I make no secret of my admiration of him, and it speaks volumes about him that we finally have confidence that our keeper will catch, punch and makes saves. Not to mention his ability to get the ball and flatten the opponent's best player in the process.
It's always an odd feeling when you come away from a game having scored three goals, defended pretty well, and yet still conceded three goals. It was one of the better performances we have seen in a while, and I think generally it would be regarded as a decent result, if we could ignore the home draws which preceded it. The prevailing views in the Sp*rs stand were that their players played out of their skins just to live with us, and that they were happy with the result. That we are all feeling flat is more a sign of how good this club is, and how this team can achieve great things. I'm not denying the need to tinker in the summer, but it would be foolish to treat May 22nd as Armageddon.
Sp*rs fans around me at the final whistle were sounding off about how they were pleased with a draw. Sometimes I think we need to remember to appreciate what we have, and remember that whatever happens next, we are not the small club down the road. One Sp*rs fan remarked, as we queued to leave the ground, "Well, that's 7 points we've taken from them this season – we've definitely got the bragging rights this year." If they think that winning one game at the Emirates is more important than securing Champions League football, then that just goes to show their small club mentality. And if I were him, I certainly wouldn't be bragging about his maths. As the proud banner in the away stand said: "1961-2011. Happy Golden Jubilee."
Magnificent away support as usual – both fans and players did each other proud last night – and there is still hope. For now, I am just relieved to be back on Arsenal soil.
You can follow me on twitter @nellypop13 for more Arsenal related musings and mumblings.