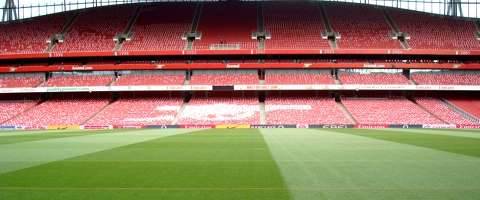 The world of football is an extremely fickle one. Players, fans and pundits are all quick to forget the good and the bad, focusing on what, at the time, they feel to be best. This is reflected in the dying breed of the club legend, with modern players eager to move on in search of glory or an increase in personal wealth.
One such saga this term appears to be that of Robin van Persie, who has refused to commit himself to Arsenal, keeping the option of a summer move well and truly open. All involved with the Gunners are hoping and praying that their inspirational captain remains in North London, yet with his refusal to sign on the dotted line, the niggling worry of life without the Dutchman remains.
It's understandable, to a degree, that the former Feyenoord striker should be looking seriously at the possibility of a summer move, with Arsenal continuing to fail when it comes to the acquisition of silverware. Since his arrival at the club in 2004, RVP's only major club honour remains the FA Cup, in 2005, where he appeared as a late substitute. Although this is a poor return for such a talented player, especially when you consider that Djimi Traore holds a Champions League winners medal, van Persie has emerged, in recent times, as the club's talisman and focal point.
The Dutchman is now approaching 29-years-of-age, arguably the prime of his career, so as a result every minute counts in his pursuit of major honours. Any move for a player represents a gamble, with things potentially not working out, and van Persie cannot risk a season, or two, of treading water at a new club. Real Madrid and Barcelona have been named as two potential suitors for the Gunners captain, but a switch of league systems may require some getting used to, which would take time. Although his style of play would likely suit Barca, if he were to be a slow starter for the Catalan club, there are plenty of options in reserve, which could limit his game time. Manchester City offer the luxury of remaining in the Premier League, but as has been shown by former team-mate Samir Nasri, a move from London to the north doesn't always guarantee instant success.
As a result remaining with Arsenal may well be the best possible option. The number ten is currently revelling in role as club captain, producing the sort of performances that have made him a hero amongst the Emirates faithful. Although he would be held in high regard at almost any club if he were to move, the potential to gain legendary status would be slim, yet this remains a possibility in the red half of North London.
As it stands, Arsenal are never too far from silverware, with the club always ranked as one of the favourites to secure a domestic cup at the start of the season, whilst continuously occupying positions at the upper end of the Premier League table. A few top-level signings during the summer, and the Gunners could put together the sort of run that would see van Persie lift a trophy as captain, which is ultimately his aim.
Steven Gerrard found himself in a similar position during the summer of 2004, and as a result came very close to a move to Chelsea. Eventually he opted to stay with the Reds, and subsequently went on to lift the Champions League the next season, followed by the FA Cup in 2006, taking part in two of the most entertaining finals in recent memory. Although becoming a club legend was always a virtual guarantee for the local lad, these glories brought him even closer to the heart of the team's support, elevating him to almost untouchable status. As captain of Arsenal, and by far their best player, becoming a club icon is not out of reach for the Dutch international, and remaining in London, allied with some degree of on-field success, could see him spoken about in the same breath as Thierry Henry or Dennis Bergkamp.
It's going to be a big summer for Robin van Persie, who must make the biggest decision in his footballing career. It may be a cliche, but the grass isn't always greener on the other side.
Written by Alex Hams