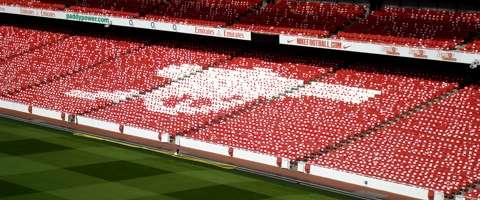 Ten years ago a 6-1 demolition by Manchester United at Old Trafford was followed by a title win there the following season. We got our own back, big time, and have been paying for it ever since.
Sir Alex Ferguson was all set to retire at the end of 2001/02, and more than the double itself or the unbeaten season that followed shortly after, that would have been the best thing for Arsenal Football Club.
Arsène Wenger said at the time that the symbolic nature of taking United's crown at their own ground could be signalling a shift of power from Old Trafford to Highbury. How wrong he was, it only spurred Fergie on to ensure that would never happen.
Still, this isn't all about Ferguson. It took him a long time to rebuild after that season, and they were lucky in 02/03 to capitalise on a major Arsenal slip-up in the title race (sound familiar?). It wasn't until 2007 that United had a great team again.
Which just makes it all the sadder that Wenger didn't make the most of that golden period. It was an almost identical team to the Invincibles that surrendered the title in 2003, and the Invincibles themselves who messed up the chance of an easy-looking run to the Champions League trophy. Wenger stared greatness in the face, and turned away. Within just three seasons of that glorious unbeaten win Patrick Vieira, Martin Keown, Ray Parlour, Sol Campbell, Robért Píres, Edu, Lauren and Ashley Cole had all been moved on, and Dennis Bergkamp had retired.
That's far too many key players, far too fast. I've said it many times and I just can't stress it enough. For all the failings in recent years, a broader context is needed, and for all Wenger's excuses about money, there was absolutely no need to dismantle his best ever squad so quickly. If money is the problem, he could've saved himself a lot of hassle in the transfer market by keeping more of those players for longer.
Even the 2007/08 team, the best one since then, is now completely gone. In just another three years we've waved goodbye to Kolo Touré, William Gallas, Gaël Clichy, Cesc Fabregas, Mathieu Flamini, Alex Hleb, Emmanuel Adebayor, and, for better or for worse, Emmanuel Eboue. That's another eight key players again, without even mentioning Jens Lehmann who was replaced early on in that campaign by Manuel Almunia – another clanger by the boss.
Anyway, this business of chopping and changing down the years (mostly chopping) saw us slip out of the trophy-winning business, but kept us in the challenging business, and the Champions League qualification business which our boss so greatly adores, but he's gone too far now, as you can see when you look at the Championship quality defence and midfield that lined up against United on Sunday. Carl Jenkinson in particular had a nightmare, but why wouldn't he? He's 19-years-old and was playing in the Conference a year ago, and League One up until this summer.
As I've also said before, it's not like it's beyond the realms of possibility that some managers could drill a makeshift back four like the one we saw today into some kind of shape and instill a bit of confidence and drive into them, but Wenger is clearly no longer the man for that job. Hell, we had more defenders out injured when Martin Keown coached our defence to a record-breaking ten conseutive clean sheets in the Champions League in 2006! Wenger simply does not know what he's doing with defences, and there is serious evidence to support that, growing by the week. Before today, we hadn't conceded 8 goals in a game for over a hundred years, but we could well do it again this season.
He also has no discipline over these brats we have as players: Three red cards in three league games this season, as well as a suspension for the idiotic Alex Song stamping on Joey Barton while the ref wasn't looking; Tomas Rosicky, the most experienced player on the pitch for us, didn't even care to look as Rooney's first free kick flew in; and van Persie shouting at our players wandering off down the tunnel to remind them to acknowledge our amazing travelling support that day.
Questions have been raised recently, after these dismal years since moving to the Emirates, about whether or not leaving Highbury was the right decision. I'd go a step further and suggest that maybe this is exactly what the board and the shareholders saw coming and wanted; the pretence of being a big club with a shiny new stadium with more seats and yet still higher ticket prices. No one has done well out of this other than the men upstairs raking in all the profits. Was this all a cunning trick to make even more money, whilst disguising it as something ambitious for the team? We'll never know, but I wouldn't be surprised. The zero ambition to build a good team supports that.