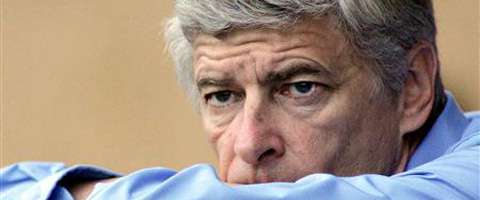 Having started supporting the Arsenal shortly after Arsène Wenger's arrival at Highbury, this writer has known no other brand of football. While the focus as always has been on pretty football triangles on the pitch, the barren run of trophyless seasons have slightly dampened the enthusiasm of the average Arsenal fan.
Wengerball attempts to chart yet another season in the Arsenal red and white, one that hopefully culminates in much anticipated glory in England's highest footballing echelon.
This week, last season's failings appear far from a thing of the past, while our European adventures get under way in the qualifying stages.
St James fallout
The rumblings of discontent continued, as the fans' chant for Wenger to "spend some money" reverberated around the Emirates. This season's top signing Gervinho started on the pitch, but was unceremoniously hauled off for a straight red card after tangling with Newcastle's Joey "Bad Boy" Barton after a soft penalty appeal by the Arsenal striker.
It was not the first time Arsenal failed to grab all three points on offer on the first day of the season, in fact the club has even lost before, but it was certainly the first time the Gunners had failed to score on opening day since Arsène Wenger arrived at the club.
For a club with defensive frailties like Arsenal, that cannot bode well at all. Granted our attacking triumvate of Cesc Fabregas, Jack Wilshere and Samir Nasri were all unavailable due to a combination of transfer skulduggery and injury, but there was certainly no excuse for the limp attacking display that was on show.
Newcastle defended resolutely and in numbers but Tim Krul was hardly tested in goal and our forwards barely stretched the Newcastle defence, let alone breached it. With vital games against Liverpool and Manchester United coming up, the team has to improve significantly, and fast. They will however, have to do so without the services of Gervinho and Alex Song.
No one said it would be easy.
First impressions
Besides debutant Gervinho, a few new faces were on show. Carl Jenkinson was left on the bench against Newcastle, but Emmanuel Frimpong finally made his long awaited league debut after an injury disrupted last season, coming on for an ineffective Andrei Arshavin. Some energetic performance from the young Englishman showed he was fully recovered from injury, with bursts of strong running following his introduction on the pitch, but alas Gervinho's dismissal meant it was more or less a damage limitation exercise.
Speaking of Gervinho, the preseason reviews were full of glowing praise for the Ivorian, with teammates and critics alike praising him for his direct running and willingness to take defenders on. Both qualities were on show last night, but ultimately lead to little due to him being played out of position on the wing. The jury was still very much out following his marching orders shortly after the 75th minute mark.
Kieran Gibbs looked adept at leftback, with some fancy footwork while on the attack. Some fans claim he is very much an inferior Gaël Clichy copy, but his age means he will still improve while the Frenchman is arguably in decline given his performances over the past two seasons.
Tomas Rosicky too, looked an improvement on last season, getting into good positions and linking up the play with tidy one touch passes. If he can build on that and not fade away like in the last campaign, he might just prove an important asset to the team.
Two sides of a coin
The team followed it up with a similarly uninspiring win at home to Udinese Calcio in the Champions League qualifying stages.
Theo Walcott was the early saviour, knocking the ball into the net from close range after some fine work down the wing by Aaron Ramsey. Udinese slowly grew into the game and Wojciech Szczesny and company did well to keep out some determined Italian attacks.
Marouane Chamakh was a virtual bystander for most of the game, out of position often and contributing little to the attacking effort. One wonders if Bordeaux might have done the old switcheroo and switched in a dud after some good displays at the start of last season. The Moroccan striker is definitely looking a shadow of himself.
Arsenal's flirtation with injuries continued, with the luckless Gibbs taken off at halftime. Thomas Vermaelen was shifted into an unfamiliar leftback position before substitute Johan Djourou went off crocked too. Carl Jenkinson was called into action and struggled in his first team debut, but at least there was no fluke own goal this time round. To give him some credit, he was forced to slot in on the left instead of his usual right.
The media response was brutal, Arsenal were just not good enough despite the win. A goal left the tie very much on a knife's edge, with the English club no certainty to make it through after the return leg. The consensus was that the team had struggled mightily against opposition that was if not second-rate, at least not up to the standard of some of the top tier teams that await in the later rounds, that the goal was lucky rather than deserved.
However, consider this. If it was Manchester United rather than Arsenal who had won the game by one goal despite playing badly, what would the headlines have been like?
I can bet you more than the dollar in my pocket that the writers would have been waxing lyrical about how the Red Devils managed to win even while playing badly, that they showed the luck and courage of champions and managed to get the job done despite having a bad day.
And before you tell me that winning sides usually only have occasional bad days, and that Arsenal have been in a pretty bad slump of late, let me remind you we are but two games into the season.
Early days yet, but the critics are already at full steam.
So long and goodbye
Speaking of Wilshere, much will be expected of him following Fabregas's move to Barcelona. The will he – won't he saga has dragged on for too long, and fans have long since moved on from resignation to apathy.
Say what you want about him, but Fabregas's influence at the club won't be easily replaced. Wilshere might be the obvious king-in-waiting, but it might take a little time to get used to life without our previous boy wonder.
There were concerns in some areas that ever since he started angling for a move back to his boyhood club, Fabregas's contribution to the Arsenal cause has waned. That dodgy hamstring has not helped matters, but a quick peek at the stats reveals that Fabregas's departure will deprive the team of around 15 to 20 assists. In that respect, Fabregas has been more or less consistent at his time at the club. While he only managed to chip in with a handful of goals last season, he still managed to contribute 17 assists to the team effort in 35 appearances. In comparison, Wilshere only managed 9 assists in 49 outings last season.
Improvement will be key, but there will be pressure on the youngster to step up and fill in the void sooner rather than later. The emergence of Aaron Ramsey alongside Wilshere will do much to determine whether Arsenal can stay competitive.