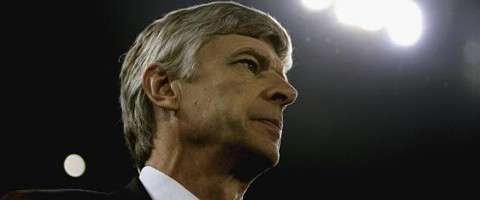 Having started supporting the Arsenal shortly after Arsène Wenger's arrival at Highbury, this writer has known no other brand of football. While the focus as always has been on pretty football triangles on the pitch, the barren run of trophyless seasons have slightly dampened the enthusiasm of the average Arsenal fan.
Wengerball attempts to chart yet another season in the Arsenal red and white, one that hopefully culminates in much anticipated glory in England's highest footballing echelon.
This week, Swansea are blown away by a 1-0 score line while Borussia Dortmund prove sterner opposition in our first group game of the Champions League.
Das Bremen Beanpole
Our new look central defence was unveiled over the past two games as new signing Per Mertesacker was commandeered into the starting lineup alongside Laurent Koscielny. Granted it wasn't Vermertesacker but for once, the fans could be assured of some height at the back. The lad from Hannover stands at a towering 6'6″ and with goalkeeper Wojciech Szczesny coming in at a handy 6'5", air-balls into the box shouldn't prove as much of a problem as it was before.
However, with great height comes some drawbacks (you weren't expecting me to go with 'great responsibility' were you?), chiefly Mertesacker's pace. Or rather the lack of it. No one expects our new German giant to be as fleet of foot as say Theo Walcott, but the poor Koscielny was made to work double time to cover for his new teammate's lack of speed.
While Swansea were more easily dealt with than Borussia Dortmund, the early signs were there for all to sea as the luckless Danny Graham almost got on the end of a sweet lob early on in the match at the Emirates. While it is safe to say that few attackers will beat Mertesacker in the air, and his timing on the tackle is more than adequate, the German international was caught out quite a few times against Dortmund as they pressed forward in search of a goal.
On more than one occasion, Mertesacker was left lagging behind as Mario Gotze and Shinji Kagawa ran rings around him. With Koscielny desperately scrambling back to deal with the threat, the new signing could be seen jogging back while looking on with interest. While one wouldn't go so far as to claim a lack of effort, it is clear that having one less mobile defender in the back four could come back to haunt the Arsenal. Furthermore, with Koscielny's knack for mistimed tackles when beaten to the first ball, making him work double shifts would be playing with fire.
One can only hope that it is more a case of newbie jitters, and that further integration into the team will see the back four work as a seamless unit to plug up the gaps. The clean sheet against Swansea was encouraging, especially after the mauling from Manchester United, but you have to remember the Swans have yet to notch a Premiership goal so far this season. There was nothing anyone could have done to prevent the stunning volleyed goal from Dortmund's Ivan Perisic, but on the evidence of the two games, there is still much work to be done.
A matter of position
It would be much too simplistic to offer up Mikel Arteta and Yossi Benayoun as like-for-like replacements for the departed Cesc Fabregas and Samir Nasri, but after watching them perform against Swansea and Dortmund, the verdict is still very much out. Arteta showed some good touches playing just behind Robin van Persie against the Swans, but soon faded and switched places with Aaron Ramsey as the young Welshman took over the more advanced role.
Against Dortmund, Benayoun was preferred in the hole with Arteta resuming where he had left off, this time partnering Alex Song instead of understudy Emmanuel Frimpong. While Benayoun showed a willingness to run and scrap for the ball, Arteta was once again anonymous for most of the proceedings, often choosing to play it safe and keep possession rather than pressing forward and finding gaps in the Dortmund defence.
Maybe the manager felt that Arteta would be more comfortable orchestrating the attack from deep in midfield, but on the evidence of the last two games, it does not appear to have paid dividends. Jack Wilshere showed he could play alongside a defensive midfielder and let Ramsey or Fabregas play in a more advanced role, but Arteta has so far been ineffective deep in central midfield. While his impact was limited in the advanced midfield slot for the match against Swansea, he did show some nifty moves, amongst them the slick through pass to van Persie early on.
If and when Wilshere and Abou Diaby return from injury, Wenger might just have a dilemma who to play in a crowded looking midfield. With Frimpong, Song and Francis Coquelin fighting for the one defensive midfielder slot, Arteta might need to be in the right form to fend off Ramsey, Benayoun, Rosicky, Wilshere and Diaby.
Lansbury lives
Just last week, the writing seemed to be on the wall for Henri Lansbury as the England Under-21 international was shipped off to West Ham on loan. In this very column, I was of the opinion that it was do or die for the Arsenal Academy product. After all, he'd been coming off a fantastic loan spell at Norwich and had showed some promising signs in preseason. After coming on once or twice as a late substitute in the early season games, he was promptly loaned to Championship side West Ham on a season long loan.
With talk of a transfer clause and his contract running down, the signs were not good. But cue a brilliant drilled goal on his West Ham debut after steaming late into the box, and it appears he might have an Arsenal future after all. The 20 year old attacking midfielder agreed terms with Arsenal and put pen to paper on a contract extension just this week, which means he is almost certain to report back to the Emirates with another season of first team football under his belt next year.
Will he prove yet another gem from the Arsenal factory line? Only time will tell, but there certainly is a touch of Ray Parlour about this lad. Watch this space.