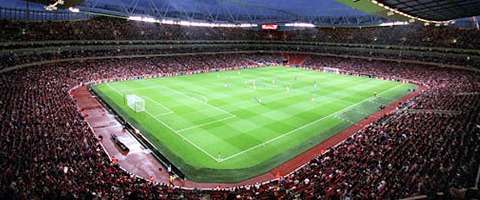 Would Arsenal really be a better side with either Gary Cahill or Christopher Samba? How much of the derby defeat to Tottenham was due to plain bad luck? Was it a mistake to leave out Alex Oxlade-Chamberlain in favour of Theo Walcott at White Hart Lane?
Wengerball attempts to chart yet another season in the Arsenal red and white, one that hopefully culminates in much anticipated glory in England's highest footballing echelon.
Derby blues
Let's admit it, plenty of us saw this coming long before the final whistle sounded. The 2–1 loss at White Hart Lane not only gave Tottenham temporary bragging rights, but also lifted Spurs a full five points above the Gunners in the table.
While St. Totteringham day might be awhile in coming this season, the atmosphere after the loss was oddly muted. It may have been utter exasperation after four losses in seven games, or grim resignation at the task facing the new look Gunners, but it was partly also due to the fact the team weren't as outclassed as we feared they would be.
For once, the Arsenal defence were not really culpable for either goal. Alex Song once again deputised at centre back alongside Per Mertesacker, and actually did a decent job in keeping out
Tottenham. A case could be made for Bacary Sagna failing to track back adequately for Rafael van der Vaart's opener, but in any case the ball was handled in the box as the Dutchman finished with aplomb.
The second goal seemed to have gone right through Wojciech Szczesny at first glance, but second viewing showed that Kyle Walker's blinder of a shot had bent wickedly at the last moment to give the youngster a match-winning wonder goal. A sense of déjà vu perhaps, though Danny Rose has struggled to feature ever since his own wonder strike during last season's corresponding fixture.
Arsène Wenger, for once, did little wrong as he opted for Francis Coquelin ahead of Emmanuel Frimpong in the defensive midfield slot. Opting to replace the foul-happy Frimpong with Coquelin paid off in spades, as the French U-20 international turned in a remarkably composed performance. Theo Walcott failed to trouble Assou-Ekotto on the right flank, but while some believed Alex Oxlade-Chamberlain might have made more of an impact, it was probably the right call given how the youngster struggled defensively against Olympiakos previously. A rampaging Gareth Bale meant Oxlade-Chamberlain would in all probability have been hopelessly outmatched.
The main problem this time lay not in the defence, but rather in the distribution of the ball. The passing, especially out from defence, was atrocious with Song and Aaron Ramsey being the main culprits. Time and time again, the Gunners regained possession of the ball in their own half, only to pass it to a white shirted player while seemingly under little pressure. Mistakes like this can be crucial in deciding which way the match swings, and in that regard it was just not good enough at all.
Strangely enough, the very two same players combined for the equaliser five minutes after halftime, as an unmarked Song drove into the box before cutting back to Ramsey to drive home from point-blank range. Alas, it only served to give the away fans a glimmer of hope as Wenger's broken mirror came back to haunt the team with a vengeance. Sagna took a tumble after an innocuous challenge and was forced off the pitch with a broken leg.
Carl Jenkinson was summoned from the bench, and sure enough was given a torrid time by Bale and company, as Walker stepped up to blast his way into Tottenham folklore. One last desperate throw of the dice from Wenger saw Mertesacker being dispatched into the forward line, but given not a single cross was attempted in the last few minutes, nor was the German capable of scavenging for possession, it was a pretty futile move.
Sunderland at home after the international break, and the Arsenal faithful will be hoping Szczesny has recovered from the back strain that ruled him out of the Polish squad. It would not do at all to lose yet another important first team player. The Football Gods are not smiling down on the Emirates at the moment, and the team will need all the resources they can muster to create their own luck.
A fun fact
It seems that not a week goes by without some talk about the porous Arsenal defence. Granted it can hardly be mentioned in the same breath as the likes of Adams, Bould, Keown, Winterburn and Dixon, but surely it is a work in progress with so many new faces in the backline.
You've definitely heard it at least once this season, how Wenger should have splurged on a proven English (or at least Premier League) defender rather than an overpriced German beanpole with an inability to turn on a sixpence. But do the statistics really back it up?
Strangely enough, that does not seem to be the case at all, when you check how Gary Cahill and Christopher Samba are doing. These two names have been bandied around to the North Pole and back, and this writer is more than sick of listening to what could have been.
Cahill's Bolton are rooted to the bottom of the Premier League table, with a goal difference of -12, by far the worse in the top flight. A total of 21 goals have been scored against the Trotters, also the ranked last out of all 20 clubs. Even when you take into account the match Cahill missed against Arsenal, the three goals you deduct still puts them bottom of the pile.
Samba's Blackburn meanwhile have had little to smile about either. While the 4-3 win over Arsenal was easily a highlight so far, they have a goal difference of -9, joint second-last in the league. 17 goals have been notched in the Rovers goal, of which 12 of them were in matches Samba played in.
This is in no way saying that Arsenal's efforts have been any less dire (-6 goal difference, 16 goals against) but it seems misguided to think that Cahill and Samba would have been anymore effective in plugging the gaps in the Gunners defence.
Just think, if we had signed either Cahill or Samba instead and the team had leaked goals at an equally alarming rate, someone would just have pointed to the non-signing of an experienced International like Mertesacker (available at a comparable price!) as a fatal mistake. Hindsight is usually self-serving, and rarely helpful.