Arséne Wenger: "I will miss you"
Administrator
Just wanted to quickly share the activity graph of these past two days and compare them with other periods.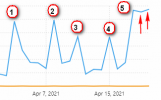 Arsenal 0 - 3 Liverpool
Arsenal 1 - 1 Slavia Praha
Sheffield United 0 - 3 Arsenal
Slavia Praha 0 - 4 Arsenal
Arsenal 1 - 1 Fulham
As you may see, the activity after a matchday drops quite a lot, but it wasn't the case after the Fulham match and then the news of ESL.
This thread was a fantastic example of fan unity in sharing of the condemnation and outrage over the ESL project.
Well played to most of you and let's keep the discussion civil
#KroenkeOut