Got Swerved By Gallas
Trusted
So here it is. Biggest game of our season and the only way we can salvage this absolute trainwreck.
Slavia are everbody's most hated team after racially abusing former Gunner Glen Kamara and then their fans doubling down with racist banners. They're still no mugs though. Beaten first Leicester and then Rangers pretty convincingly.
Lot of players could be missing for this. Arteta has said
Saka, ESR, Tierney, David Luiz and Xhaka
are all doubts.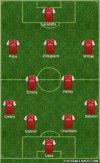 Hope Holding and Ceballos are nowhere near the starting XI.
Last edited: