Kieran Tierney has become a fan favourite at Arsenal since his arrival from Celtic in 2019. 
The Scottish full-back has always given everything within games, and the sight of his shirt impeccably tucked into his shorts has become a source reassurance for supporters, knowing everything will be left on the pitch.
However, his time in North London could come to an end, with a potential move out of the club on the cards.
Tierney dropped down the pecking order after the arrival of Oleksandr Zinchenko and at 26-years-old, he will want to ensure he's getting regular first team football.
But selling him could be a huge mistake for Arteta.
Why should Mikel Arteta avoid selling Kieran Tierney?
Tierney brings several key attributes that are important to a team, as well as his overall ability.
For example, he had the second highest tackling percentage at 75% in the squad, just behind Saliba according to FBRef. It was also considerably higher than Zinchenko's at 53%.
Whilst Zinchenko has clear qualities, the reason why Guardiola was content in selling him was because he was opting for defensive minded defenders who were good at defending, to be simply put, attributes Tierney has in his locker.
Zinchenko has acknowledged that defensively he can improve, and allowing Tierney to leave without that being a guarantee could be an issue.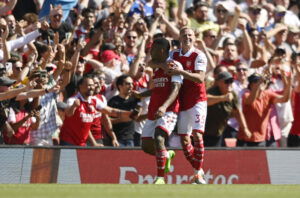 Away from physical qualities, Tierney's leadership is an element that can't be replaced and considering Arsenal's drop-off last season, they will need it if they aspire to challenge for the title once again.
Versatility is another key factor Tierney brings. He's able to play on the left of a back three, as well as a wing-back or a full-back in a defensive four. There are options there for Arteta and allowing him to go, potentially strengthening a rival team would be a huge and costly mistake.
What are the legends saying?
What's quite telling about the potential Tierney transfer saga is that two ex-players and prominent leaders have both suggested that the Scotsman should snub outside interest.
Both Nigel Winterburn and William Gallas have suggested that Tierney should stay and fight for his place at the Emirates. With both players playing prominent roles for Arsenal over the years, it would be fair to suggest they're opinions shouldn't be taken lightly.