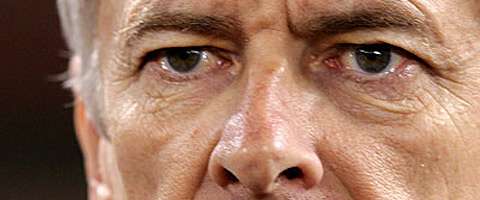 Eight days on from what felt like the worst 0-0 draw ever, with the players silent and Wenger and Hill-Wood defiant, Arsenal won their first league game since the 23rd of February.
After the Blackburn game I genuinely worried we might not win a football match again this season. Thankfully I was wrong, but that does not change how I feel about Wenger and the team. This was not helped by his comments this week in an outspoken interview.
He said: "We've been in the Champions League for 15 years, and there's only two clubs who've done that in this country. It's us and Man United."
When asked if winning cups was overrated, he came out with this gem:
"They're not overrated as it allows you to say you've won a trophy, but would you swap winning the FA Cup for playing in the Champions League? Is it a trophy or not to be in the Champions League? Is it more important to win the FA Cup?"
To me, that's the football equivalent of saying "it's taking part that counts". Read it again just to let it sink in – that sums up our club right now. We could have it in big letters on the Emirates, or under the club crest on the shirts. That is what his young players are learning when they grow up under his management, and it's not good enough.
And yet, after presumably giving his players something of a bollocking this week, there seemed to be a different attitude out there on the pitch today. We know Wenger is capable of laying into his players every now and then, as he famously did at half-time at Anfield last season, and that seemed to be the case today. As I said, there were no interviews this week from losers like Denilson talking about fighting spirit and maturity and the usual recycled nonsense, and I noticed a few things in the first half at Bloomfield Road that made me think things might be on the up.
Firstly, of course, we dealt well with the early pressure from Blackpool, caught them on the break and scored a fine goal through Abou Diaby. It was a simple, direct move and there was nothing Ian Holloway's side could do to prevent it.
Shortly afterwards it was 2-0. Just minutes after the first, a fine burst forward by Eboue resulted in the Ivorian slamming it into the top corner with his left foot. A lovely goal, and when you look at some of the goals he has scored for us down the years you have to wonder why it doesn't happen more often.
Then there was a telling moment, when shortly after the second, van Persie rounded the home side's goalkeeper, and found Diaby, who made something of a meal of the chance and let a defender block his finish. He should have scored, and Wenger knew it, going ballistic on the touch line – not the usual reaction from Arsène, particularly with a two goal lead.
Then, on the stroke of half-time, another key moment. Diaby gave away a silly foul, but got himself booked because of his reaction. Clearly reminiscent of his stupid dismissal at St James' Park earlier in the season, Fabregas was quick to push him away from the referee and getting himself into further trouble. That's the kind of captain's behaviour we need to see more of from Cesc, who, incidently, was brilliant today.
I'm not going to say we've turned a corner and that the season is back on track or anything like that, but needless to say, I'm glad we won, and I'm glad that the team didn't totally panic at 2-1. I'll admit at that point I could see another 3-2 reverse coming. Thankfully, Walcott fed van Persie for the third, reminding us of a partnership that was looking very strong in January and February and how important it is to keep these two players in particular, along with Cesc, fit.
I don't think we'll win the league, but as long as we're mathematically still in it it would be nice to see more of the kind of fighting spirit we saw today.