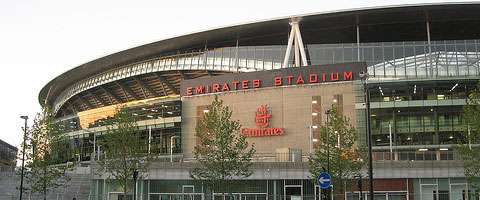 Having started supporting the Arsenal shortly after Arsène Wenger's arrival at Highbury, this writer has known no other brand of football. While the focus as always has been on pretty football triangles on the pitch, the barren run of trophyless seasons have slightly dampened the enthusiasm of the average Arsenal fan.
Wengerball attempts to chart yet another season in the Arsenal red and white, one that hopefully culminates in much anticipated glory in England's highest footballing echelon.
This week, a depleted Arsenal side get blown away at Old Trafford in a match that is not likely to be quickly forgotten while Arsène Wenger covers all the bases for once on deadline day.
Down and out for the count
The writing was on the wall long before the team trooped out of the tunnel at Old Trafford. The fact that Francis Coquelin was included as a third choice defensive midfielder told the tale, while the sitting on the bench was a host of unfamiliar faces (besides the deposed Lukasz Fabianski and luckless Marouane Chamakh). Armand Traore was finally drafted in at leftback as Carl Jenkinson deputised for Bacary Sagna on the right.
The fact that United were actually fielding a younger side than Arsenal for once was lost on no one, as Chris Smalling, Phil Jones, Tom Cleverly and Danny Welbeck attempted to press their cases for an England call up. The difference in quality on the benches though was startling, with Park Ji-Sung, Rio Ferdinand, Ryan Giggs and Javier Hernandez in marked comparison with Henri Lansbury, Gilles Sunu, Ignasi Miquel and Oguzhan Ozyakup. The sportwriters were falling over themselves to point out that Ozyakup does not even have a Facebook page to his name.
With Manchester City having already accounted for fellow North London side Tottenham in an earlier match, the Red Devils were keen to match, if not outdo their arch rivals. Barely 20 minutes had elapsed before Anderson hooked the ball over Arsenal's static defence for an emphatic Danny Welbeck to steal home and head in the opener.
Robin van Persie had a chance to level the scores after Theo Walcott was judged to have been brought down in the area, but the much-maligned David de Gea easily kept out his weak effort. Ashley Young raced up the other end and scored a superb curler that underscored the Red Devil's increasing dominance.
The match quickly became a rout as Arsenal went for broke after the interval. The good news is that we finally managed to open our Premier League account with two goals, one apiece from van Persie and Walcott. The bad news is that we let in eight and also lost Carl Jenkinson to a second yellow card.
One wonders what went through Wojciech Szczesny's mind after he picked the ball out of the net after for the eighth time. While Young's two long distance strikes were almost near unsaveable, surely you can't let your opponent score directly from set pieces with such ease. A jubilant Wayne Rooney was the lucky recipient, before he completed his hattrick by sending Szczesny the wrong way with his penalty.
The upside was that this result might just have woken the Arsenal board up and forced their hand. No longer would Wenger be able to front a press conference and insist that this current team was capable of staying competitive in the league, let alone mount a credible title challenge.
Sunu has since been shipped off to FC Lorient and Traore to QPR, while Lansbury drops down a division on a year long loan with West Ham.
As Un-Arsenal as it gets
Deadline day saw a flurry of activity as a host of new signings were rounded up and delivered to the Emirates. Some Arsenal fans might still be rubbing their eyes after news filtered through of the signings of Per Mertesacker, Andre Santos, Mikel Arteta and Yossi Benayoun. Together with the earlier signing of Park Chu-Young, that makes it five out of five players that hardly fit Wenger's hiring philosophy.
With those signings we've strengthened in every position of the pitch besides the goalkeeping slot. Mertesacker and Santos in defence, Arteta and Benayoun in midfield, Park in attack. Barring a catastrophic disaster of poisoned pasta proportions, we should not expect to see Arsenal Reserves turning up en masse in the Arsenal dugout again this season.
For once, the fans' pleas seem to have been heeded.
Need height in defence? Try the 6'6″ Mertesacker.
Experience? Every single one of the signings is above the age of 26, with Arteta and Benayoun both having played in the English Premiership since 2005. Benayoun and Mertesacker boast an incredible 83 and 75 caps for their national teams respectively, while Park weighs in with 53 of his own. Andre Santos's 22 for Brazil isn't too shabby either, while Spain's embarrassment of riches in midfield accounts for Arteta's lack of caps.
What about leadership? Strangely enough, we seem to have come up trumps in that department too. Park is the captain of South Korea, Benayoun the Israeli captain, while Mertesacker was captain of Werder Bremen. Even Arteta was vice-captain of Everton (and the preferred captain ahead of Phil Neville according to a portion of the Everton support).
Potential moves for Gary Cahill (Bolton), Mario Goetze (Borussia Dortmund) and Eden Hazard (Lille) all failed to materialise, but tellingly none of them moved anywhere else, which means we might just get a second bite of the apple as long as we do well enough for the remainder of the season.
In other news, striker extraordinaire Nicklas Bendtner was also sent out on loan to Sunderland. With any luck, he'll drive them all batty before October.
Things are already looking up.
I don't know about you but I can't wait for Swansea's visit.