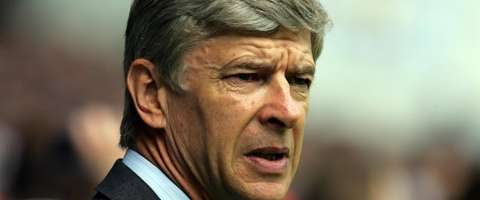 Say what you will but this really is it now, Arsène Wenger officially does not quite know what he is doing. A fourth successive 0-0 draw, three of which have come at home against remarkably inferior opposition, and the painful thing is, no one is even surprised that we regularly drop points against the likes of Hull, Stoke, Fulham, Sunderland and the like anymore (need I carry on)?!
The boos ringing around the Emirates Stadium after yesterday's pulseless display would irk any manager in the top flight and have him firmly on his toes. But not Wenger. He has had the security and almost immunity over the last five years, FIVE YEARS, and yet with every failure he grows more stubborn, more deluded, more incompetent. After all, you cannot fully blame him; it is the board that have made his position unbelievably strong, giving him their utmost backing even with the most inept of performances and the most shocking of signings. For all his great rhetoric and promises of greatness and "belief in my team", "his team" have failed to deliver on a regular basis, making themselves, and our fans, a ceremonious laughing stock amongst the football world.
Francesc Fabregas had the cheek to declare recently that we cannot win the title this season. Cannot win the title?! Are you having a laugh? If I were you Fab, I would be looking behind you mate, as Everton and your best mate Arteta are ready to pounce for our fifth spot, never mind the title, never mind the Champions League come to that!
From four points behind the Champions one year, having led the table for most of the campaign, to sixteen points off the top, and with qualification to even the UEFA Cup not secured let alone the Champions League, really stinks of a manager who just does not know how to rediscover consistency anymore, does not know how to function his team ruthlessly and capably anymore, does not know how to simply win anymore. I used to think that José Mourinho was an insecure, arrogant snob (or a word that rhymes with the latter anyway) every time he delivered a thinly veined attack aimed at Arsenal and Wenger for not having won anything for years. But now I believe him and see his point, how are we idolising someone who talks the talk and yet cannot walk the walk?! It is not as if we have slid gradually into relative mediocrity, we are doing it with such dramatic style, and there can only be one man to blame.
Wenger's reign can be split nicely into two halves. Consider Wenger's record up until the last trophy won, 2005, quite possibly the last trophy Wenger will ever be able get his hands on at the Club. Back then, Wenger's record read: seven major trophies in eight seasons at the Club, a terrific return, along with all the other achievements that had put us firmly on the map. Wenger has destroyed all the remarkable "miracle-working" that he had done single-handedly and reduced us to this, being unable to score against Tottenham, West Ham, Sunderland and Fulham in quick succession, slipping from six points to an alarming sixteen points. Toothless. Helpless. Hopeless!
This might sound like an absolute spur of the moment article, where I am being so daft and pathetic in questioning the manager's capability to win football matches. But the results speak for themselves, Wenger is unable to win football matches, it is that simple! We cannot simply turn someone into a god and think of him as irreplaceable for what he has done in the past. The past is in the past, for the record books, and for the good moments of nostalgia.
Life is about the here and now, and our here and now is not good, not good at all, and hasn't been for five years too many! This is what keeps winners like Ferguson, Capello and Mourinho (I say begrudgingly) going. And this is what makes people who like to settle for second-best, foolishly optimistically hoping for a good future like Wenger simply just fall by the wayside.
The people who argue that the likes of van Persie, Fabregas and Walcott would follow Wenger out of the door should he leave are probably right. I happen to believe that the same would happen. But where have they been when we needed them? Can they honestly leave and claim to have done as much good for us as their predecessors have? Can they honestly look at themselves in the mirror and claim that they see the Vieiras, Píres', and Henrys of this world in them? I don't think so, and so they can go, if they have based their dreams on a faltering and failing man, rather than their love for a great Club, a great Club whose name is being stained in the dirt by the manager's clueless management, and the players lack of heart and ability, and their utmost profligacy against timid, weak opposition.
And, for anyone who feels the need to hit back at me should we trounce West Bromwich Albion 3-0 on Tuesday (though I doubt very much that this will happen) and qualify for the Champions League quarter-finals, my response would be, what vindication is that? You are trying to criticise me and bash my argument for beating the team at the foot of the table? A sign of the times indeed!
Right, this is my rant over, and whatever happens, I just do not think I can bring myself to being in love with Le Boss anymore. The Professor has killed every moment of joy he has brought to me as a Gooner when I was used to watching the most magnificent football being played, with trophies being swept along the way, to being reduced to this mess! The boos ringing around Ashburton Grove yesterday will suggest that a few other thousand people, and millions around the city, and across the world, will agree with me.
Prior to the match against Fulham, Wenger was adamant that we'd find our rhythm (isn't he always?) and stated that him and his underachieving players had to convince the supporters of their worth. I have a suggestion to our fallen boss: stop the chat, cut the crap and actually go out there and win some games, we'd be much happier like that, rather than being humiliatingly subjected to your endless list of pathetic excuses game after game!
You have a lot of convincing to do Arsène, a lot!