(continued)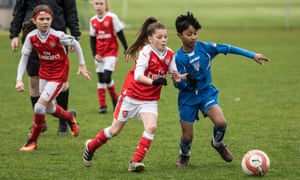 Arsenal's under-10s have at their disposal a far more professional set-up than their male equivalents in the league. The under-10s and under-12s get four hours of training per week plus a match on Sunday. "They are getting A- and B-licence coaching, goalkeeper coaching, strength and conditioning work, sports psychologists, physiotherapists, nutrition," Payne says. "The idea is it is not just about developing them technically, it's what we do to develop the whole player. We also have parent workshops to support the parents. There is a lot going on."
They also had the benefit recently of an overseas trip. Olivier Giroud secured an invitation to a mixed Futsal tournament near his home town close to the French Alps.
It is all part of a steep learning curve for the girls, in an attempt to encourage them to troubleshoot and deal with new tactical situations at a more intense pace. The under-10s probably have it easier than the under-12s, who have found it harder to adjust to playing against the boys. It is a little less innocent, and physically the challenge is trickier to bridge especially as the girls teams play in two-year age bands, so if you have a boy pushing 13 against a girl who has just turned 11 the difference is marked.
As Payne points out, finding the right level – the appropriate league and division – is paramount in the search for a relatively even match. "It has been a challenge but if you are going to be an elite female player ultimately you need to be regularly challenged," she notes. For those with top potential the opportunities to learn are there to be seized. One of Arsenal's best under-16s girls goes once a week to train with the club's academy boys.
All in all, the girls feel certain they are fast-tracking development. Rupen Shah, on the coaching staff of the under-10s, has been at the club for eight years and is sold on the potential of girls v boys matches. "It is the best experience they have had in all my time at the club. You really see the benefits. I asked the girls recently what they thought and they unanimously said they would prefer to play in a boys' league."
After the post-match handshakes, it took a bit of persuading to get the two teams to shuffle up close for a joint team photo, but in the end the gap was closed to leave one big group of ambitious, happy footballers.